NEWS Europe and anti-Semitism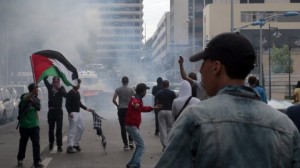 By Daniela Gross
These are troubled and obscure days for the European Jewry and for all those who, in Europe but not only, still believe in the possibility of peaceful coexistence among cultures and religions. The dramatic news that day by day arrive from Israel join an awful wave of anti-Semitism that sweeps the Occidental countries with unexpected violence.
The signals of a renewed anti-Semitism in that area – mainly in France and Belgium – were evident even in the last years. But the Middle East conflict sparked violent and angry reactions both in the world of Arabic extremism and in the area of extreme left. So, too often pro-Palestine public protests degenerated in anti-Zionist and anti-Semitic demonstrations, as it happened in Paris.
The results are attacks to synagogues and to people, Jewish communities menaced, hate speech, offensive slogans. "Another time the Jews are objects of a deep hate, but don't be duped by the geopolitical pretext: the anti-Zionism has the same habits of the anti-Semitism", said the new Chief Rabbi of France Haim Korsia recalling the recent attack to two synagogues in Paris. "The words I've heard at the demonstration were the same hatred words – he concluded – There were intolerable and despicable slogans".
The situation is getting so worse to stimulate a public statement by the Foreign Ministers of France, Laurent Fabius, Germany, Frank-Walter Steinmeier, and Italy, Federica Mogherini. "Anti-Semitic agitation, hate speech against Jews, attacks against people of Jewish belief and against synagogues cannot be tolerated in our societies in Europe – reads the declaration – We strongly condemn the outrageous anti-Semitic statements, demonstrations and attacks in our countries in recent days. We respect the freedom of assembly and the freedom of speech. However, we will proceed with all available legal means against deeds and statements that are to be considered as acts of anti-Semitism, racism and xenophobia".
"Nothing – concludes the statement – including the dramatic military confrontation in Gaza, justifies any such transgressions in Europe. We will do the utmost – jointly and in our countries – to make sure that all our fellow citizens can continue to live in peace and security."
A serious appeal to the public opinion came also by the President of the Italian Jewish Communities Renzo Gattegna. "In front of the images of synagogues and entire Jewish communities menaced by the hate, particularly in France, it is imperative that institutions move effectively at both national and European level. Behind a facade of anti-Israeli resentment lurks in fact the most sinister anti-Semitism, ridden with increasing enthusiasm in the wake of recent events in the Middle East".
"It is a feeling that grew up in the shadows and now comes to unfold in ways that suggest other dark periods of our history.
Ignoring these signals would be the most serious negligence, especially at a periodo particularly complex and full of pitfalls like the one we are experiencing".