JERUSALEM POST OP-ED Jewish life in Europe is about much more than anti-Semitism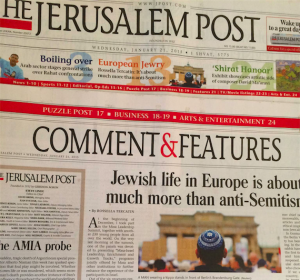 By Rossella Tercatin*
At the beginning of December, I took part in the Masa Leadership Summit, together with another 230 young people from all over the world. On the very last morning of the summit, one of the panels was devoted to presenting "Masa-Israel Leadership, Enrichment and Growth Tracks," programs jointly offered by Masa and other institutions to further enhance the experience of the participants in Israel.
Out of the six programs presented, three were reserved for North Americans, one for Russian speakers and one for North Americans and people from the Former Soviet Union. Only one was open to everyone regardless of their origin: the Masa-Shalom Hartman Institute Fellowship I-Engage. And yet, even this last one, which I currently attend (and find very interesting), is solely focused on the relationship between Israel and the North American Jewish community.
It is hard to say when our hearts are still bleeding from the umpteenth brutal attack upon Jews in France, but Jewish life in Europe is much more than the threat of anti-Semitism and the fight against it. And Israel, not to mention American Jewry, seems to have completely forgotten that.
Some people argue that the reason for this amnesia is to be found in numbers. According to the data published by the Avraham Harman Institute of Contemporary Jewry of the Hebrew University of Jerusalem, at the beginning of 2014, the world's Jewish population was estimated at 14,212,800, with Israel and the US accounting for 83 percent of the total.
However, over 1,400,000 Jews still live in Europe, 1,100,000 of whom are in the countries of the European Union. And since according to Jewish tradition, 10 people are sufficient to count as a community, one might think that over a million Jews should not be that easy to overlook.
What happened at the Masa Leadership Conference is not an exception. Masa – Israel Journey is an umbrella organization which was established by the Jewish Agency and the Israeli government in 2004 in order to offer and fund long-term gap year, study abroad, and post-graduate programs in Israel for Jewish young adults. Its goal is to bring thousands of young Jews to spend a relevant amount of time in the Jewish state, not in order to persuade them to make aliya but rather to foster a deeper connection to Jewish identity and to create new Jewish leaders for their communities back home.
When it comes to considering Jewish life in 21st-century Europe, this is exactly what's missing from the picture; nobody asks the question of what European Jewish life and identity are in positive, active terms.
Let us consider the press coverage in the aftermath of the devastating terrorist attack that targeted a kosher supermarket in Paris, killing four people (two days after two terrorists massacred 12 people at the headquarters of the French satirical magazine Charlie Hebdo).
The debate, especially after the reactions of Israeli leaders, immediately focused on whether French Jews should all make aliya or not, on their safety and on the essential role they play in French society ("If 100,000 Jews leave, France will no longer be France. The French Republic will be judged a failure," French Prime Minister Manuel Valls told the American magazine The Atlantic).
But very little has been reported about what constitutes French Jewish life beyond all of that: synagogues, cultural events, kosher restaurants and new initiatives such as the opening of a Moishe House in the center of Paris last summer. Moishe House is an organization which subsidizes housing all over the world for Jewish young professionals, who then open the doors of their apartments to create "a hub of Jewish life for their peers and community members," according to their website.
Do not misunderstand what I'm saying: anti-Semitism is a plague, in France and in many other European countries. It is even more so because in Europe Jews are often living in the very same places where their ancestors were persecuted and massacred 70 years ago, and multiple times before that. But it is not the extent of European Jewish life, in the very same way living in Israel is not all about the geopolitical tensions.
To be fair, speaking about European Jews as a single community is not exactly accurate. European countries are very diverse, and the same is true of their Jewish communities. France hosts the biggest one, with about half a million Jews, followed by the United Kingdom (300,000) and Germany (100,000). Every country, and sometimes even every city, neighborhood and congregation has a different story, and the examples of vibrant and meaningful Jewish life are countless.
One cannot help but starting from Limmud Conference. Established about 30 years ago in the UK as a small Jewish non-profit devoted to Jewish education, today Limmud is present in over 30 countries. The main conference, which is held every year in the UK on Christmas week, attracts over 2,500 people, including the most prominent Jewish leaders, rabbis, educators and artists.
Among the speakers of the latest edition were the director of the Jewish Agency Natan Sharansky and Chief Rabbi of Commonwealth Ephraim Mirvis. Again from the UK is one of the most prominent contemporary Jewish voices: Rabbi Jonathan Sacks, former chief rabbi of the Commonwealth, whose speeches, articles and lectures provide ethical inspiration to Jews and non-Jews alike.
In Germany, after the fall of the Berlin Wall the community has been constantly growing.
In the past 15 years, new rabbis have been ordained for the first time after the Shoah, and historical synagogues reopened. And Berlin is a popular destination for Israelis who chose to emigrate.
If we consider my home country, Italy, the numbers in terms of Jewish population are significantly smaller: fewer than 30,000 Jews all over the country. There are some significant problems, ranging from financial issues to the lack of opportunities for young people to engage in a Jewish life. However, in my city of Milan alone, with roughly 6,500 Jews, there are over a dozen minyans, three day schools and five kosher restaurants and cafes.
In Rome, two days after the Paris attacks, hundreds of people gathered in the Great Synagogue to celebrate the 57th wedding anniversary of one of the last Italian Holocaust survivors, Sami Modiano, and his wife Selma. This event had already been planned and was considered the best possible answer to terrorism.
European Jewish life involves studying, celebrating Jewish holidays, going to shul, attending cultural events, gathering for both happy and sad occasions.
It may be less interesting to report than issues related to anti-Semitism, to people making aliya, to politics. However Israelis and American Jews should not forget it.
Nor should European Jews themselves. That would be terrorists and anti-Semites' greatest victory.
*This article was published on the January 20th edition of the Jerusalem Post.