NEWS Italian Coen-Uzzielli Appointed Director of Tel Aviv Museum of Art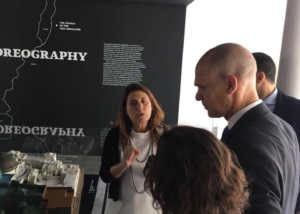 By Pagine Ebraiche staff
Italian curator Tania Coen-Uzzielli was appointed as the new director of the Tel Aviv Museum of Art.
"I am very happy and I believe that this appointment pays tribute to Italian Judaism," she commented. "Personally it is an honor to be called to guide an institution that is part of the history of this country. When Israel was not even a country yet, in Tel Aviv the art museum was already up and running".
Coen Uzzielli is currently serving as the Head of Curatorial Services at the Israel Museum in Jerusalem. She was born and raised in Rome and holds a degree in archeology. She has been working at the Israel Museum since the year 2000.
Her tenure at the Tel Aviv Museum of Art will start January 1, 2019. "It is an institution very rooted in its location: the goal will be to make it more international".
"The Israel Museum reminds us of the Parthenon: in order to reach it, visitors have to go up a hill, similarly to what happens with the Acropolis in Athens. Its position represents its identity and function. The Tel Aviv Museum of Arts on the other hand is an agora: it is perfectly inserted in to the urban space and it is close to what is happening in a city that is constantly moving. Leading it will be a fascinating challenge," she concludes.
Coen Uzzielli is also the curator of the exhibit currently featured at the Israeli pavilion in the Venice Biennale.