NEWS Intolerance at Rise in Verona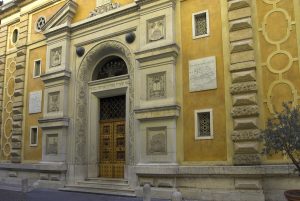 By Greyson Gerdts*
Jews in the city of Verona have faced many struggles throughout history. Just like other historical Jewish-Italian communities, the Jews of Verona have been imprisoned, forced to wear identifying badges, and denied rights. Even today, there are still people who discriminate against Jews.
Just a few months ago, the city's professional soccer team, Hellas Verona F.C., was fined € 20.000 ($24,000) because of the anti-semitic and racist chants and slogans yelled by the most ardent fans at a player on the opposing team. Hundreds of fans chanted obscenities like "Adolf Hitler is my friend" (in English) and sang about the team's appreciation of the swastika. Videos of these events have gone viral on social media, and those in the video described the incident as a prank. Local authorities brushed it off until another video from the same stadium went viral, this time bashing Christianity.
Towards the middle of the 19th century, there were around 1200 members in the Jewish community of Verona. This number continued to drop due to emigration and assimilation. At the beginning of the 20th century, there were about 600 Jews in Verona. In 1931, there were only 429. During the German occupation, 30 Jews were deported to death camps. After the war, there were roughly 120 Jews left in Verona. Presently, there are still about 100 Jews living in Verona.
Bruno Carmi, the head of the Jewish Community, said, "In my opinion, whoever draws a simple swastika on the wall knows what it means." The Verona synagogue now is guarded by two armed police officers.
Racist and anti-Semitic slurs have become more hurtful, harmful, and more frequent. The number of hate crimes in Italy rose from 71 incidents in 2012 to 803 in 2016.

*Greyson Gerdts is a student at Muhlenberg College (Allentown, Pennsylvania, USA).