SPORTS Second Israeli cyclist in history completes a Grand Tour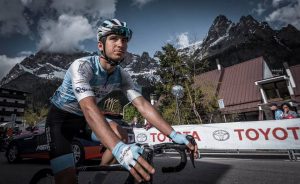 By Adam Smulevich
Guy Niv, 25 years old, a member of the Israel Cycling Academy, is the second Israeli cyclist in history to complete a three-week-long Grand Tour.
In 2018 the mission was accomplished by his teammate Guy Sagiv. Niv crossed the finish line of the 2019 Giro d'Italia in Verona on Sunday.
The moment marked a personal victory as well because in the previous edition of the Giro D'Italia he was forced to stop cycling during the race due to a physical problem.
Niv's result represents another excellent achievement for the Israeli Cycling Academy, who participated in the Giro d'Italia for the second consecutive year thanks to a wild card granted by the organizers.
The team did not manage to win a stage, the goal that they had hoped to achieve (although team members Ruben Plaza and Davide Cimolai got close to it). However, the project of the Academy continues to grow. The ambition for 2020 now is to get an invitation from the Tour de France.