Sports – Israeli Team Made History at Giro D'Italia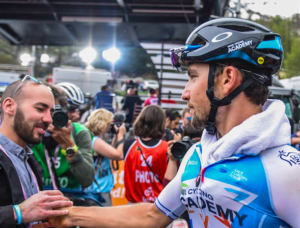 By Pagine Ebraiche staff
The Israel Cycling Academy was the first Israeli team ever to participate in a prestigious cycling race like the Giro D'Italia that after starting in Jerusalem at the beginning of May finished in Rome on Sunday May 27, 2018.
If the team didn't succeed in winning a stage, there has still been plenty of reasons for satisfaction: the Israeli team member Guy Sagiv, 23 years old, was the first Israeli ever to complete the race. Moreover, the Spanish cyclist Ruben Plaza arrived second place in one of the mountain stages on the Alps.
After the end of the Giro, an event to honor the Academy was organized in the garden of the Great Synagogue of Rome by the Union of Italian Jewish Communities (UCEI), with the cooperation of the Jewish Community of Rome and of the Foundation of the Museum of the Shoah, and the support of the Israeli Embassy.
"You proved how sports can educate and unite the people. This Giro, also thank to the figure of Gino Bartali, has been very special and connected Remembrance and future, Jerusalem and Rome", commented UCEI president Noemi Di Segni.