NEWS The Bucci Sisters Go Back to Fiume for the Installation of the Stolpersteine in Honor of Their Relatives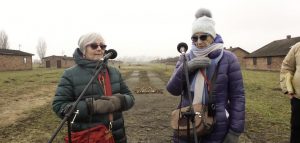 By Pagine Ebraiche Staff
Shoah survivors Andra and Tatiana Bucci were among the very few children who were liberated from Auschwitz. They will return to their hometown, Fiume, on March 28, 2019.
Seventy-five years after their arrest, the Bucci sisters will attend the installation of the Stolpersteine devoted to the remembrance of the members of their family that perished in the Holocaust. In front of the building of Via Pomerio 15, nine "stumbling blocks" will remember Mira Perlow Bucci, Mario Perlow, Sonia Perlow, Jossi Perlow, Aron Perlow, Carola Braun Perlow, Rosa Farberow Perlow and Silvio Perlow, together with their young cousin Sergio De Simone who was visiting them with his mother to escape the bombing in Naples.
Back then Fiume, currently a Croatian city, was Italian, and the fascist regime was absolutely instrumental in the identification, persecution and deportation of the local Jews.
The history of the community is illustrated in the study "Gli ebrei a Fiume e nell'Istria liburnica alla luce dell'antisemitismo fascista 1938 – 1943" ("The Jews in Fiume and in the Liburnian Istria in the light of the fascist anti-Semitism, 1938-1943"), by local historian Sanja Simper.