NEWS Italy Marks Liberation Day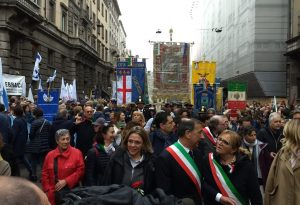 By Pagine Ebraiche staff
Rallies and marches were held all over Italy to celebrate the liberation from the Nazi-Fascist regime on April 25, 1945 last Thursday.
In many cities, including at the national rally in Milan and Rome, groups of people joined the events under the banners of the Jewish brigade, the British Army formation of Jewish recruited in the Mandated Palestine.
In Rome, many representatives of Italian authorities joined the event organized at the Balbo Street synagogue, where the Jewish Brigade headquartered after the Liberation of Rome. Among them were the Ministers of Labor, Justice and Health, Luigi Di Maio, Alfonso Bonafede, and Giulia Grillo, who were welcomed by the President of the Jewish Community of Rome Ruth Dureghello, the Chief Rabbi Riccardo Di Segni, the President of the Union of the Italian Jewish Communities Noemi Di Segni, the President of the World Jewish Congress Ronald Lauder.
Later a commemoration at the entrance of the Commonwealth Military Cemetery included Rome Mayor Virginia Raggi, Minister of Defence Elisabetta Trenta, President of the European Parliament Antonio Tajani and French philosopher Bernard-Henri Lévy.