News – A Carabinieri Delegation Visited the Shoah Memorial in Milan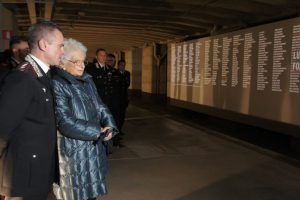 By Pagine Ebraiche staff
A group of the Italian police officers (Carabinieri) visited the Shoah Memorial of Milan last week. The Memorial is located in the warehouses in the city's train station. From here Jews and other deportees were forced to board the trains to the death camps so that they could be hidden from the rest of the population.
Guiding the delegation of the Carabinieri was senator for life Liliana Segre. Segre, 88, who was on one of those trains. From there she was sent to Auschwitz at the age of 14.
"Indifference is the most convenient choice. It is easy to look away and think that if a problem doesn't touch me and I don't deal with it, it must not be my fault. The indifferent are always in the majority. But new generations must understand that there is something worth striving for; the opposite of indifference: one's conscience," said Segre, who insisted on having the word carved on the entrance wall. "Many things happen because of indifference more than because of violence".
In introducing the visit the provincial Carabinieri Commander Luca De Marchis remembered the 2,000 Carabinieri who were deported to Nazi camps after the Nazis occupied Italy, and four of them who were appointed Righteous Among the Nations by Yad Vashem Giacomo Avenia, Carlo Ravera, Osman Carugno and Enrico Sibona.