NEWS The Shoah Memorial of Milan Open to Shelter Refugees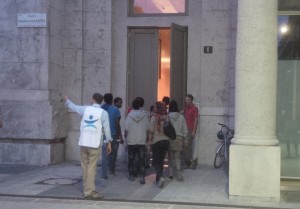 By Pagine Ebraiche staff
 
For the second consecutive summer, the Memorial of the Shoah of Milan is open at night to provide shelter to refugees. With the summer, thousands of migrants from Africa and the Middle East are reaching Italian shores. Many of them manage to get to Northern Italy by train. In Milan, among the centers giving them assistance, there is also the Memorial of the Shoah which is situated in the warehouse of the train station, on the very same platform where trains to Nazi camps departed during the Second World War.
 
"Last year, we hosted over 4,500 people from 26 different countries," explains vice-president of the Foundation of the Memorial Roberto Jarach. "This year the situation is even more complicated, because borders are shut. We felt that it was important to give our contribution."
 
Every night, the Memorial can shelter up to 40 people, in two purpose-made rooms with bunk beds. There are restrooms and showers. The refugees are welcomed by the volunteers of the Catholic charity Comunità di Sant'Egidio, while the Jewish Community of Milan is helping the NGO City Angels to collect clothes, toiletries and food.