NEWS Ahead of January 27, Two Awards for Milan's Holocaust Memorial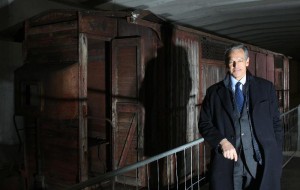 By Francesca Matalon
As the celebrations for January 27 approach Milan's Shoah Memorial receives two awards for its growing role as a symbol of remembrance and its activity in educating young people. The architects Guido Morpurgo and Annalisa De Curtis have been awarded an honorable mention of the Gold Medal for Italian architecture by the prominent design and art museum Triennale di Milano. The vice-president of the Foundation for the Memorial and vice-president of the Union of Italian Jewish Communities Roberto Jarach – as anticipated by Pagine Ebraiche – will receive the Premio Il Campione, an award created by the voluntary association City Angels with the support of the Jewish Community of Milan among others. The prize is dedicated to "people who have launched positive messages and values through the media". Jarach will receive the award in a ceremony that will take place on January 21 in Milan's city hall.
Mr. Jarach's commitment to the Memorial dates back to 1998, when the first meetings to discuss the idea of building the Memorial took place. The idea was to create a center for the education of young people about themes connected to the Holocaust, as well as the fight against racism and anti-Semitism. "Architect Morpurgo was one of the people involved in those initial discussions," Jarach remembered.
The Memorial is located in the warehouse of the Central Station in Milan, where the secret platform from which the trains left to Auschwitz stands. Among the people who passed through there was Milanese Shoah survivor, Liliana Segre. Mrs. Segre is among the first people who fought to have the Memorial be built, and insisted on having the word 'indifference' to be sculpted on its walls.
Milan's Memorial, Jarach underlined, is "the only place in Europe linked to the Nazi deportations that has remained unchanged after the period of the Second World War."
Today the visiting area is completely open, the auditorium hosts many cultural events and the Foundation is looking forward to advancing the construction of a library and a study center in the structure.
For the determination shown for years, Jarach is thus is now considered by City Angels a "champion of solidarity". The award, as explained by the organization's president Mario Furlan, is in recognition of "what the Memorial is for the whole society." Also the decision to give shelter inside the Memorial to thousands of refugees who arrived at Milan's Central Station last summer was taken into consideration.