NEWS In Milan, a Torch-Light Rally for Israel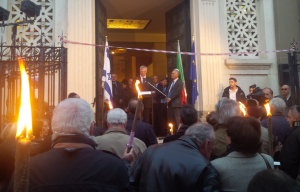 By Rossella Tercatin
A torch-light rally to show solidarity to Israel after the latest wave of terrorism was held in Milan on Wednesday, after a similar event was organized in Rome the previous Sunday. Hundreds of people gathered before Milan's main synagogue, while over a dozen speakers took the podium in turn, welcomed by the co-presidents of the Jewish Community Raffaele Besso and Milo Hasbani.
"In the Exodus, there is a passage that tells the story of how in Egypt, Pharoh, in order to persecute Jews, incites not his army, but the Egyptian people. It was the first example of a pogrom, a phenomenon that repeated itself constantly throughout history. Today we are witnessing another pogrom, with the ISIS and Hamas inciting the people to kill and slaughter Jews. Their ancestral hate must awaken us," said Chief Rabbi of Milan Alfonso Arbib.
Among the speakers were Israeli ambassador to Rome, Naor Gilon, vice-president of the Union of Italian Jewish Communities Roberto Jarach, theater director Andree Ruth Shammah, Italian Keren Hayesod president Andrea Jarach, member of the Milan municipal council Ruggero Gabbai, journalist Stefano Jesurum, former Jewish Community spokesperson Daniele Nahum, president of the Union of Italian Jewish Students Talia Bidussa, former Jewish Community board member Yoram Ortona.
Attending the rally were also many local politicians both left-wing and right-wing.