NEWS A New Memorial in Bologna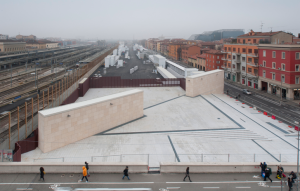 By Francesca Matalon
"Cultivating the Memory of the Shoah via physical sites means cultivating the seeds of tolerance in peoples' consciences as a shield against racism and xenophobia". With these words Naor Gilon, the Israeli ambassador to Italy, praised the upcoming construction of a new Memorial of the Shoah in Bologna, a project of the Union of Italian Jewish Communities, the Jewish Community of Bologna and the city of Bologna, with the participation of the Bank Foundation Monte di Bologna e di Ravenna.
The announcement of the competition for designers, architects and artists from all over the world is now online (click here to read it), and was presented on the occasion of International Holocaust Remembrance Day.
"Today we commemorate the 70th anniversary of the liberation of Auschwitz, marking an fundamental moment of the history of our territory," said Daniele de Paz, the head of the Jewish Community of Bologna.
The Memorial will be erected in a new town square originally created from a fragment of an unfinished train station. It will be located in a very central crossroad where the older part of Bologna meets the urban expansion of the early 1900s. "The monument will reflect the thoughts of the historian Yosef Hayim Yerushalmi, who personifies the sense of history and thus of memory as essential elements of the Jewish notion of life; thereby keeping Memory alive which also means not losing identity," Mr. De Paz added.
For the Memorial, the meaning of the word identity refers to the wider identity of the human condition, commemorating the genocide of six million Jews as well as the extermination of the Roma people, homosexuals, disabled people and political opponents.
"The Memorial will interpret this objective, expressing it with a spatial structure that will engage with our citizens, inviting them to enter into a different dimension on a journey that moves from the historic drama of the extermination to the contemplation of beauty in the urban landscape: from violence and death to life," reads the competition announcement.
Everyone have the chance to make a donation on the crowdfunding platform GoFundMe .