NEWS Nazi Victim Soccer Coach Weisz to Be Honored at Bologna Stadium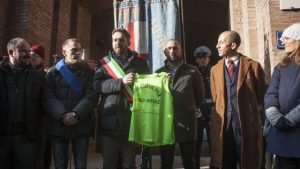 By Adam Smulevich
In Bologna, people do not talk about anything else: it is the most discussed topic in bars, cafes, among the soccer fans. Recently, the City announced that a sector of the stadium will be named after Arpad Weisz, the great Hungarian Jewish coach who led Bologna to the championship and that was murdered in the death camps by Nazis.
No one doubts that a man like Weisz, for many years forgotten and just recently rediscovered, has to be honored. But some people, especially in the Church, seem to have strong resistance. The reason is that that very sector until now was dedicated to the Madonna di San Luca, the religious symbol of the city.
"Hands off Madonna di San Luca," a popular priest said in past days. "It is a right choice to dedicate something in his stadium to a man who has suffered. I am sure that a solution will be found," stressed instead bishop of Bologna Matteo Zuppi.
His words of moderation were appreciated by the local Jewish Community.
Its President Daniele De Paz in fact commented: "We hope a solution respectful to all sensitivities will be found. It's not about subtract anything to the city but to add something."
According to De Paz, the two names (Madonna di San Luca e Arpad Weisz) "can easily coexist".
The dedication ceremony is scheduled for late spring.