CULTURE Spielberg Might Skip Bologna in the Production of His New Movie Set in Italy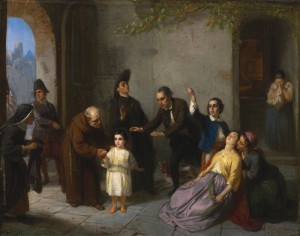 By Pagine Ebraiche staff
Italian media reported that director Steven Spielberg has decided to give up on Bologna as the location to film his new movie.
The movie is based on the historic episode of the kidnapping of Edgardo Mortara, a six-year-old Jewish boy from Bologna who was taken away from his family by Papal guards in 1858.
The announcement of the project caused great anticipation in the city and in the Jewish community.
As reported by Pagine Ebraiche, the director even tried to find a young actor to play Edgardo among the children of the Jewish community of Bologna.
The crew was said to be planning to start filming in Bologna in the early 2017.
However, according to Raffaella Leone of the Leone Group, a co-producer to the movie, Spielberg has decided to find another location, reportedly in Tuscany.