CULTURE New Spielberg Film About Italian Jewish Boy Seized by Church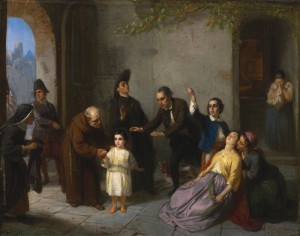 By Daniela Gross
The recent news that Steven Spielberg next production will be dedicated to the kidnapping of the little Edgardo Mortara, one of the most dramatic cases of the Italian Jewish history, caused a strong emotional reaction in Italian Jewry. A case that will be further illuminated by the new book by Elèna Mortara Di Veroli, Professor of American Literature at Rome University and descendent of Edgardo. "Writing for Justice", temporary title of the manuscript just presented to the American publisher – the prestigious Dartmouth College Press – will be put in press in the next few months. The book promises to make new revelations about the historic and cultural debate about the democratic society.
On the big screen the story of the Jewish kid subtracted from his family by the Church in 1858 after the secret baptism from a servant, and raised as catholic to become a priest, will be narrated in an adaptation of the book The Kidnapping of Edoardo Mortara written by David Kertzer.
The screenplay will be by Tony Kushner, author in the past of Lincoln and Munich. Steven Spielberg will produce and maybe direct the movie, a coproduction Dreamworks-Weinstein co.
The life of Edgardo is so moving, full of controversy and religious and political implications, that it promises to thrill the public as did the book of Kertzer, published in 1997 and finalist at National Book Award. David Kertzer, Professor of Social Science at Brown University and among the most authoritative experts on the relations between the Vatican and the Jews, dedicated that work to his father Morris. As a young Rabbi, Morris Kertzer was the only chaplain of the U.S. fifth Army, and he was with the troops that in June 1944 landed in Italy at Anzio. He witnessed the Allied liberation of Rome and celebrated the Shabbat in the Temple there, in front of a gathering of 4.000.
Therefore, the movie by Spielberg will bring to the public a well documented snapshot of the past. Edgardo Mortara was subtracted from his family after a servant held that the child had been baptized during a serious illness. When the news of the baptism reached the Inquisitor, the kid was kidnapped and sent to a monastery to be educated as a catholic. The case became a cause célèbre. Although such kidnappings were not uncommon in Jewish communities across Europe, in the renewed climate of the end of 1800 it prompted the involvement of the Rothschilds in Great Britain, Napoleon III and even of the American public opinion. But Pio IX refused to return the child to his family and eventually Edgardo became a priest.
Recently his story returned in the public eye, when the picture of Moritz Oppenheim "The kidnapping of Edoardo Mortara" was found after a century and sold for 400.000 dollars in an auction by Sotheby's.