EVENTS Thousands in Ferrara to Celebrate Jewish Culture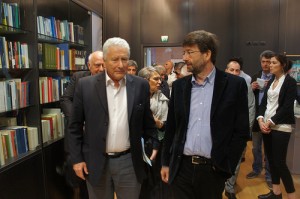 By Daniel Reichel
Thousands of people gathered in the city of Ferrara on Saturday night in order to attend the opening of the "Festa del Libro ebraico in Italia" (Italian Jewish Book Fair).
Not only book presentations and conferences, but also concerts, culinary events, guided tours of the Jewish itineraries of Ferrara, will animate the Fair. The fair organized by by Fondazione MEIS (the National Museum of Italian Judaism and the Shoah Foundation) with the support of Ferrara Fiere and the sponsorship of the Ministero per i Beni e le Attività Culturali, the Union of Italian Jewish Communities, Regione Emilia-Romagna, Provincia and Comune of Ferrara, University of Ferrara, and the Jewish Community of Ferrara.
Among the main events, the exhibition on Jewish themes in the works of Emanuele Luzzatti (artist, set designer, director and Academy Awards nominated animator), a conference on marranos (Jews who were force to convert to Christianity, but kept on practicing Judaism in secret), and the awarding of Pardes Prize for Jewish Culture to the Israeli author Lizzie Doron.
Satisfaction for the success of the Fair has been expressed by Riccardo Calimani, Italian Jewish author and the president of the Fondazione Meis.
The Festa del Libro will end on May 1st, 2014.
In the picture, the president of the Union of Italian Jewish Communities Renzo Gattegna and the Italian Minister of Culture Dario Franceschini.