NEWS The Auschwitz Memorial to Commemorate Italian Victims Reopened in Florence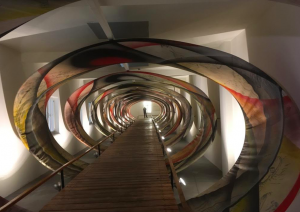 By Adam Smulevich
The Auschwitz Memorial built to remember the Italian victims of deportation found a new home in the city of Florence.
Originally set up in a lager by the National Association of ex-deportees in Nazi camps in 1980, the monument was moved to Italy some years ago when the Auschwitz Museum contacted the Italian authorities to inform them that it no longer respected the standard of a modern museum, a new location was needed.
This marked the beginning of a controversy behind which many have seen political motivations.
To save the Memorial, which had also received a contribution by Primo Levi, the city of Florence offered its help along with the support of the Tuscany Region and other institutions, including the Union of Italian Jewish Communities.
The artwork was transferred, reassembled and presented to the public last week.
"This is an opportunity to remember the end of the death camps but also to celebrate a new European awareness: today with the disappearance of many of the last direct witnesses it is increasingly vital to have places of Remembrance that speak to contemporaries. Reopening this Memorial was a civic duty," said the mayor of Florence, Dario Nardella.