NEWS Celebrating democracy on Italy's National Day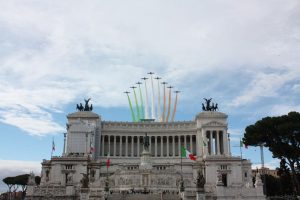 By Pagine Ebraiche staff
Italy celebrated the National Day of the Italian Republic on June 2.
"Freedom and democracy represent essential cornerstones of our present and our future," commented the President of the Union of Italian Jewish Communities (UCEI) Noemi Di Segni. "Cooperation and dialogue are fundamental to overcome differences and strengthen our role of protagonist in Europe."
Di Segni also praised the words of Italian President Sergio Mattarella. "They were a clear message to the whole country."
"June 2 celebrates historical choices that changed the course of Italian history, a turning point from an infamous past that had caused vast damage," she added.
The UCEI President also warned not to take democracy, peace, or freedom for granted.
"We must defend an extraordinary Italy, peaceful and democratic, a founder of united Europe, a shared home for peoples once hostile and today our brothers," she highlighted.
She said that all must work hard.
"As always, Italian Jews will do their part," she conclude