NEWS A Monument to the Aliyah Bet in La Spezia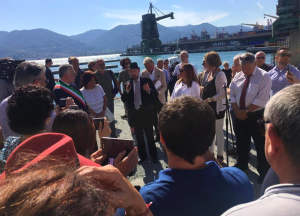 By Pagine Ebraiche staff
A monument to the Aliyah Bet – the operations to allow Shoah survivors and refugees to reach the land of Israel under the British Mandate between 1945 and 1948 – was inaugurated in the city of La Spezia last week.
Many ships of the Aliyah Bet ships sailed from the port of La Spezia.
Their stories will now be celebrated by a monument in the shape of a broken heart and a pair of wings at the Pagliari Pier. An exhibition that explains the history of the Aliyah Bet was also inaugurated on the same occasion.
Among those who attended the event were the mayor Pierluigi Peracchini, the head of La Spezia port Carla Roncallo, the Chief Rabbi of Genoa Giuseppe Momigliano, the president of the Community Ariel Dello Strologo and the deputy Israeli ambassador Ofra Farhi.