EVENTS Seventh edition of Balagan Cafè Kicks off in Florence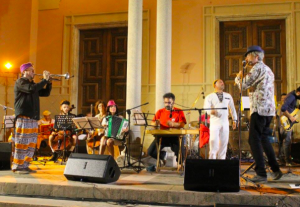 By Pagine Ebraiche staff
The seventh edition of Balagan Cafè was inaugurated in Florence on Thursday.
The festival takes place in the garden of the synagogue and presents public concerts, lectures, roundtables and performances that explore Jewish tradition and the encounter between cultures.
"Florence is a special city as everyone knows. I believe that also its Jewish Community is such, to the point that it has turned the synagogue gardens into a place of gathering and encounters for all the people of Florence," explained Enrico Finzi, the artistic director of Balagan Cafè.
"I am convinced that again this year we will confirm our usual number of attendees, in spite of the terrible heat wave," he added.
The Balagan Cafè events will be held every Thursday in the month of July and then again in the first week of September.
The 2019 edition will end with the celebration of the European Day of Jewish Culture on September 15.