CULTURE The Jewish Italian community: a women-woven history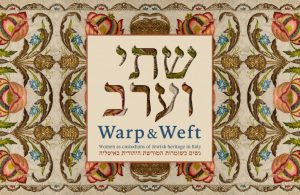 By Daniel Reichel*
"It all started out with a question: did Italian Jewish women just take care of their house and their children, however important it was, or did their role entail something more? The answer is, yes, women's role in the Italian Judaism is as varied and complex as the weft of a piece of fabric". It was this question which inspired the exhibition Warp and weft – women as custodians of Jewish heritage in Italy, inaugurated at the U. Nahon Museum of Italian Jewish Art in Jerusalem and curated by Anastazja Buttitta.
She explained to Pagine Ebraiche that her exhibition is intentionally meant to "pay a tribute to the current exhibition at the Uffizi Gallery in Florence, The colours of Judaism in Italy, and to its curator, Dora Liscia Bemporad, who is also my mentor". Precious fabrics from the Nahon Museum collection, dating back to the 16th-20th century, tell us the story of the complex role of women within the Italian Jewish society.
"The Museum's collection boasts 220 both ritual and non-ritual textiles which can be dated from the 16th century to the post-war period. Dora Liscia Bemporad and Doretta Davanzo Poli are helping us date the numerous fabrics which are still undated. This was our starting point for the exhibition, Anastazja Buttitta explains, which features two of the main currents of Jewish Art: the Hiddur Mitzvot, which aims at glorifying God and the Bible's commandments with beautiful ritual objects, and the la'alot bakodesh, which sanctifies worldly textiles.
In the section "The 'recycled' fabric: from worldly object to sacred ceremonial object", visitors can admire meilims, i.e. pieces of fabric used to envelop the Sifrei Torah, and parokhots, i.e. the curtains hanging in front of the Aron Ha Kodesh, both woven by Italian Jewish women, who turned worldly textiles into holy ones. "When Italian Jews were excluded and prevented from taking up liberal professions, they had few trade opportunities", writes Jack Arbib, President of the Nahon Museum, in his presentation of the exhibition. "A fundamental and widespread activity was ragpicking, which consisted in picking and selling pieces of cloth (shmates). Though quite humble at first, this activity became a more and more refined art, since the clothes were transformed and, thus, acquired a new status, becoming precious and respectable". Women's role was essential in this transformation process.
"A remarkable feature of the Italian Jewish community, Buttitta explains, was that women in Venice, Mantua, Florence, and in other parts of Italy worked hard in their household and, therefore, gave a fundamental contribution to the family economy. In addition, this activity allowed women to consult books featuring lace models from all over Europe. Therefore, we know that they were able to read and calculate", which means they were rather educated for those times. "Their skills, Arbib says, were also described by the German historian Ferdinand Gregorovious in Passeggiate per l'Italia: "The daughters of Sion are now labouring at those rags. They sew, they darn as much as they can. They are masters in the art of sewing, embroidering, mending, and darning. There is no rip in the drapery or in the fabric, however wide it may be, that these Arachnes are unable to mend without a trace". This passage refers to the work of women in the ghetto of Rome in 1853.
The exhibition is made up of five sections: "The role of women in the Italian Judaism", "Ritual fabrics", "Fabrics for brides, wives and mothers", "A career woman: lace and embroidery", "The 'recycled' fabric: from worldly object to sacred ceremonial object". Some of the fabrics are being displayed for the first time. Other important pieces of textile have just been restored, like the famous Parokhet Tedeschi, from Venice, dated 1572, and considered by researchers as one of the most ancient and interesting fabrics which have been transformed into Jewish ceremonial objects. Visitors of the exposition can also admire ketubboths, i.e. marriage contracts, one Meghillat Esther, and wedding dress fabrics passed down in Jewish families through generations, sometimes displayed with wedding pictures.
"The goal of the exhibition (which will be open until next autumn) is to use fabrics to talk about the role of women and their importance in Jewish history, Buttitta explains, while bearing in mind that they were living in a patriarchal society". As Jack Arbib wrote in his presentation, "We hope that this exhibition will be a source of inspiration. At a time when societies all over the world are torn by conflicts and people are not able to mutually recognise their dignity, I hope that we will all be able to mend the rips in our social fabric, by knotting warp and weft once again, in order to weave a well-knit Nation.
*Translated by Sara Facelli, with the help of Claudia Azzalini, both students at the Advanced School for Interpreters and Translators of Trieste University and interns at the newspaper office of the Union of the Italian Jewish Communities.