CULTURE Parma, a small community thinking big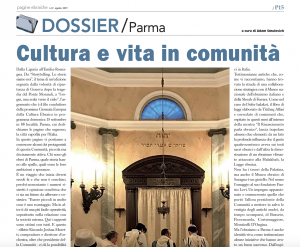 By Adam Smulevich*
The earliest records of Jews in Parma date back to the mid-15th century, when the city was part of the Duchy of Milan.
Following a decree of expulsion issued in the 16th century as a result of the vicissitudes of that time, Jews were no longer allowed to live in the city.
This ban would only be lifted in the 18th century, when the Jewish community started developing again. Despite being quite a small nucleus, it would play a major role in Italian history.
It is in Parma that Rivista Israelitica (Jewish Magazine) was first published around mid-19th century. Rivista Israelitica was the first Jewish periodical ever to be printed in Italy and would help spread fundamental ideas inspiring the high number of representatives of the Jewish community playing a major role in the society of that time. Among other bodies, they operated within the Provisional Committee, i.e. a philanthropic institution paving the way for the Mutual Society for Public Assistance. Giuseppe Melli, of Jewish faith, was the President of the Provisional Committee as well as a supporter of the Civil Hospices, Commissioner of the War Orphans Charity and President of the Artists' Support Society.
This period was marked by a wave of enthusiasm and a series of highlights; in 1865, the Parmesan Free Israelite Society was founded and the construction of a synagogue in Vicolo Cervi, opened in 1866, began.
These accomplishments were synonymous with the Parma Jewish community's great willingness to contribute to shaping Italy's future and would only be interrupted as a consequence of the adoption of the Italian racist laws in 1938, which led to the Shoah and the dramatic events taking place later in Parma and its surroundings.
The Jewish Community of Parma counts only a bunch of members nowadays, which makes it one of the smallest ones in Italy. "We are a small community, but we are determined and proud of our history and heritage, which we strive to protect as best as we can. Some very experienced professionals specialised in different fields helps us pursue this goal by carrying out a harmonic exchange of opinions. It is an effective cooperation", underlined Riccardo Joshua Moretti, councillor of the Union of Italian Jewish Communities and recently appointed President of the Jewish community, with Susanna Bondì and councillor Renza Levi as vice-presidents. Chief Rabbi is Rav David Sciunnach.
"I was re-elected because of my strong commitment over the last few years, also on a cultural level. Furthermore, they wanted to guarantee continuity to our organisation", claimed Moretti, who is also a conductor, musician and composer. Not only is he focusing on the next European Day of Jewish Culture, but also on the events taking place in 2020 as part of the manifestations for Parma as Italian capital of culture.
"On the one hand, being a small community has many drawbacks, but on the other hand it allows to manage it more easily, especially when it comes to external relations. We have good external relations with everybody: institutions, cultural organisations, and society as a whole. Therefore, we can be even more efficient and be a point of reference for the Jewish community in a territory where people are extremely responsive to our inputs". Over the last few years, the Jewish community has taken care of the organisation of several events, both in Parma and in the neighbouring city of Soragna.
It is in Soragna that the Jewish museum dedicated to Fausto Levi was built, which hosts some important evidence of neighbouring communities which no longer exist. Every spring, the museum hosts the final phase of Shevilim, a school competition whose aim is to research a topic connected to Judaism. "It's an opportunity to talk about Shoah as well as dealing with Judaism extensively", Moretti explains. "It's a challenge which students always face with enthusiasm, producing meaningful compositions". What is more, Moretti introduced initiatives like the "Musical composition contest within Jewish tradition", which first took place in Parma in December 2017, with the help of the Union of Italian Jewish Communities and Parma OperArtm. Composer Luka Lodi won the competition with his song "Shirah". The competition gathered musicians from all over Europe and Israel and celebrated the 50th anniversary of Jerusalem unification.
Lately, Parma also hosted a one-day event dedicated to the Tefillah. It was organised by UCEI's Committee on Culture and gathered many rabbis. Lastly, Limmud Italia took place a few weeks ago (its format was inspired by Florence and Venice's events of the same kind). "We are becoming more and more attractive, and that gives us hope for our future. One of our main strengths is our beautiful city, which is generally rich in cultural activities and initiatives. We seek to stand out as a cultural organisation in Parma, by contributing consistently to its liveliness. This is fundamental for us", concludes Moretti.

*Translated by Sara Facelli and revised by Mattia Stefani, both students at the Advanced School for Interpreting and Translation of Trieste University and interns at the newspaper office of the Union of the Italian Jewish Communities.