OBITUARIES A tribute to Grazia Di Veroli (1961-2019)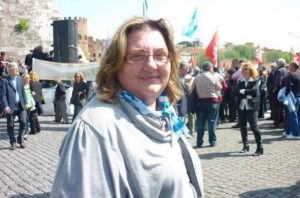 By Pagine Ebraiche staff
Grazia Di Veroli devoted her life to Remembrance through projects and initiatives aimed to overcome the challenge of passing it down to the younger generations. She escorted the last witnesses of the Shoah to many public events. She was recently appointed vice-president of the National Association of Former Deportees (ANED) section in Rome, after years and years of community work, during which she fought for the eradication of hatred, racism and antisemitism.
Grazia Di Veroli was born in Rome in 1961 and graduated in pedagogy with a thesis on death camps. She also got a master in Shoah education under Professor David Meghnagi and attended many specialized courses.
She contributed to exhibitions, documentaries, conferences, and authored the important biography "Mario Limentani da Venezia a Roma, via Mauthausen" (Mario Limentani from Venice to Rome, via Mauthausen), published by Marlin. Several people expressed their condolences after her demise.
UCEI President Noemi Di Segni said, "Over her long and intense years of work, Grazia Di Veroli has been a pillar for all of us. She was a passionate protector of Remembrance, which was the focus of many initiatives aimed at the young and the not so young with the goal of fostering the awareness of historical events, places and monuments. Her efforts themselves were monumental, she left her mark and will not be forgotten. The passing of Grazia, a sincere woman and a valuable friend, is a huge loss for all Italian Judaism".
According to Ruth Dureghello, President of the Jewish community of Rome, an example of Grazia's engagement "is her determination in recovering the lieux de mémoire in Rome and in reporting the attack on the Wall of Deportees at Campo Verano".
The managers of the Centre of Contemporary Jewish Documentation Foundation (CDEC) in Milan participated in the sorrow. "Our dear friend, tireless populariser – they wrote in a note – made her determining contribution in shaping a culture of Remembrance intended as civic and democratic commitment".
Mario Venezia, President of the Foundation for the Museum of the Shoah in Rome, commented as well. "Grazia loved life and research. She was always engaged in keeping the memory of the Shoah alive and making her contribution to divulge the history of deportation and persecution of Italian Jews".
The Association Children of the Shoah highlighted in a note, "As an ANED counsellor, she worked hard for years to foster democratic and antifascist values, in addition to her continual work in of Shoah education. Her commitment towards Remembrance has characterized her tireless activity as a professional as well as a human".
Reactions arrived from politicians as well.
In a tweet, mayor Virginia Raggi wrote, "Rome stands by the Jewish community and Grazia Di Veroli's family. Passing away at the age of 58, her dedication to teaching young people and to the defence of Remembrance will be missed".
Marco Miccoli, head of the political secretariat of PD secretary Nicola Zingaretti, said, "When I came to see you in hospital a few days ago we talked about the future, about things to do. You were the one encouraging me. Strengthening antifascist initiatives; antifascist unity; what to do to avoid divisions on April 25; defending your community; protecting what you cared about most and dedicated your life to, i.e. Remembrance. You were worried about the situation, but full of ideas".
Grazia Di Veroli's funeral service tooj place on Wednesday, August 28.
May her memory be a blessing.

Translated by Claudia Azzalini and revised by Mattia Stefani, both students at the Advanced School for Interpreters and Translators of Trieste University and interns at the newspaper office of the Union of the Italian Jewish Communities.