NEWS In Naples, German President Visits the Jewish Community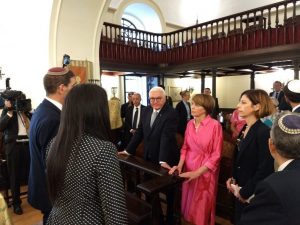 By Pagine Ebraiche staff*
The President of the Federal Republic of Germany Frank-Walter Steinmeier visited the synagogue of Naples last week.
"Thank you for welcoming us and sharing your stories about those terrible days," he said.
On an official visit to the Naples, the German Head of State, after visiting the Goethe-Institute, specifically asked to see the synagogue and to meet with the Jewish Community (which is located in the same building as the Goethe Institute).
The planned 15 minutes became 30.
The vice-president of the Jewish Community of Naples Pier Luigi Campagnano and the rabbi Ariel Finzi welcomed Steinmeier and recounted the history and daily life of the Neapolitan Jewish reality.
"We are pleased that despite his numerous commitments, the president wanted to find time for our great little community of Naples," highlighted Finzi.
Steinmeier carefully listened to the words of Tullio Foà and Gabriella Sacerdote Fontana, whose lives were marked by the Nazi-Fascist persecution.
"President I must make a confession: it took me some time to be able to listen to German again", Foà said. Born in 1933, he recalled how the deportation of the Jews from Naples was supposed to start on September 25, 1943.
"Naples was chosen, because it was believed to be a 'submissive city', accustomed to prostrating itself before the rulers of the day," he continued.
"It was a mistake that was made often in the history of Naples: underestimating the pride of the Neapolitans." That day, he concluded, marked the beginning of the glorious "Four Days," a revolt of the city against the occupying forces.
After Foà spoke, Gabriella Sacerdote Fontana told her story. She was born in Naples in 1941 from a family forced to flee anti-Jewish persecutions.
"Thank you for telling us about those terrible days and moments," said Steinmeier. "Over the years I have participated in many commemorative ceremonies in Italy, he continued, it is very important to remember the atrocities of the past so that we may build the present and the future".