EVENTS 'October 16: Rome does not forget'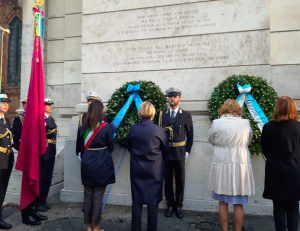 By Pagine Ebraiche staff
The solemn commemoration of the victims of the Nazi raid of 16 October 1943 began at dawn, with rav Alberto Funaro playing the shofar.
This event represents a big wound for the city of Rome, and every year, commemorations and meetings are dedicated to it starting early in the morning.
The official moment of the laying of the wreaths took place at 8:30 at the Great Synagogue of Rome: one from the city administration and the Region, and one from UCEI (Union of Italian Jewish Communities) and the Jewish community of Rome.
During the ceremony, the mayor of Rome Virginia Raggi said: "Today we remember October 16, 1943, the raid of the Ghetto of Rome and the deportation of the Jews of Rome. That day inflicted a wound to our city and to the Jewish community. The city does not forget the tragedy of the Shoah, because without remembrance there is no future."
Amongst other, UCEI President Noemi Di Segni, President of the Jewish Community of Rome Ruth Dureghello and chief rabbi of Rome Riccardo Di Segni were present.
Similar events followed at Palazzo Salviati and then at Campo Verano.
This year, Roma Capitale (the regional authority of Rome) and the Museum of the Shoah Foundation organized a special moment of remembrance, affixing a wreath in via del Portonaccio 194/196 to commemorate the Efrati family.
The deputy mayor of Rome Luca Bergamo and the President of the Museum of the Shoah Foundation Mario Venezia attended as well.
76 years ago, on 16 October, as was mentioned, Abramo Umberto and his pregnant wife Maria Di Segni were arrested and then deported to Auschwitz, along with eight of their children: Enrica, Angelo, Cesare, Fortunata, Grazia, Giuditta, Dora and Marco.
Only Angelo and Cesare came back.
The other five children, who didn't live with their parents and siblings, weren't arrested that day. Lazzaro was eventually arrested and died at Ebensee in 1945.
Rosa, Samuele and Anselmo, on the other hand, survived the Nazi occupation period, and so did Emilia, the last surviving of the 13 siblings.

Translated by Sara Volpe, student at the Advanced School for Interpreters and Translators of Trieste University, intern at the newspaper office of the Union of the Italian Jewish Communities.