NEWS Senator for Life and Shoah survivor Liliana Segre assigned police escort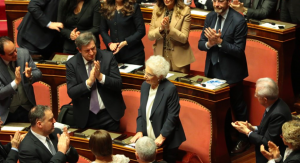 By Pagine Ebraiche staff
Senator for Life and Auschwitz survivor Liliana Segre was assigned a police escort after receiving alarming threats and antisemitic messages.
Segre, 89, was appointed Senator for Life in 2018 after decades devoted to bear testimony to what happened during the Shoah.
A few weeks ago, a report by the Milan-based Center for Contemporary Jewish Documentation revealed that she was the target of an average of 200 antisemitic messages every day. Since then, the situation has deteriorated even further following a vote in the Senate on establishing a parliamentary commission to investigate antisemitism, racism and hatred. The senator introduced the proposal, but the center-right and right-wing parties decided not to back it.
Following the announcement of Segre receiving police escort, solidarity has been expressed to Segre from many inside and outside Italy, including representatives of the authorities and ordinary citizens.
"I was appalled to hear the news that antisemitic threats against you require you to receive protection to ensure your safety, and deeply regret that the circumstances of me writing to you are so distressing," Israeli President Reuven Rivlin wrote to Segre in a letter. "Your personal mission, your strength and your bravery are a role model for us in Israel and for Jewish communities around the world."