EVENTS Jews in the Renaissance, a conference in Jerusalem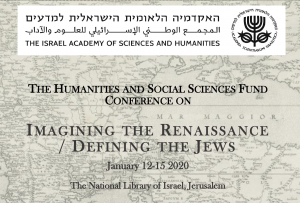 By Pagine Ebraiche staff
A conference exploring the topic of Jews during the Renaissance will be held at the National Library of Israel in Jerusalem on January 12-15.
Titled, "Imagining the Renaissance / Defining the Jews," the conference is organized by the National Library of Israel, PRIN 2015 – The Long History of Antisemitism, the Joseph and Rebecca Meyerhoff Center for Jewish Studies and the Department of History University of Maryland Johns Hopkins University, EMODIR – Early Modern Religious Dissents and Radicalism, UNESCO Chair in Religious Pluralism and Peace, and Fondazione Giovanni XXIII per le Scienze Religiose.
It received the support of the Israel Academy of Sciences and Humanities Rothschild Foundation Hanadiv Europe, The Lechter Institute for Literary Research – Bar Ilan University, and the Vice President for Research, Bar Ilan University.
Opening the event will be an introduction by Yaakov Mascetti, Pagine Ebraiche columnist and a member of the scientific committee.
The event will cover topics such as the life of Jews in different Italian cities, the relationship with the Catholic Church and the Jewish presence in literature, as well as in its production.
"'Ours is a global frame,' as Natalie Zemon Davis has written. Nowadays, 'more continents, peoples, ideas, and religions count than perhaps ever before.' Within this global frame, historians are trying to deal with difference in narratives of boundaries that remain fuzzy and porous. Our conference seeks to contribute to this discussion on the 'forms of cultural mixture, metissage, and exchange' as it was expressed within the context of Renaissance Italy," reads the conference presentation.