NEWS The Museum of Italian Judaism and the Shoah reopens its garden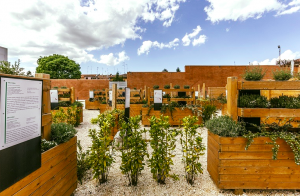 By Pagine Ebraiche staff
The Museum of Italian Judaism and the Shoah in Ferrara reopened its "Garden of Questions" just before the Jewish festival of Shavuot on Thursday after the coronavirus emergency measures were eased up in the country.
"In Judaism, everyday life is marked by the awareness that the Earth and its products are not owned by us and that we must behave with respect towards what surrounds us. Reopening the Garden to visitors before one of the most important Jewish holidays, during which the relationship between man and the surrounding nature is celebrated, therefore represents a further symbol of rebirth," read the museum0s statement.
The Garden of Questions, the message further emphasized, represents a safe and welcoming place where, "it is possible to play outdoors, explore the educational installation dedicated to the Jewish dietary laws and traditions, participate in workshops aimed at adults and children, but also read and spend some time with yourself surrounded by olive and pomegranate trees, ready to reconnect with nature: a dynamic place that transforms and hosts all citizens ".
A summer camp for elementary school children will also be inaugurated in the garden starting from the month of July.