NEWS First Building of Museum of Italian Judaism and the Shoah to be Inaugurated December 2017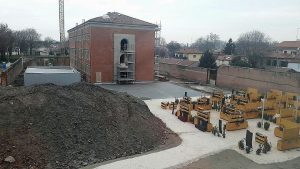 By Pagine Ebraiche Staff
 
The Board of the Foundation of the Museum of the Italian Judaism and the Shoah in Ferrara (MEIS) announced that the building hosting part of the permanent exhibition will be inaugurated on December 13, 2017.
 
The Museum is located in the former prison on Via Piangipane and is due to be fully completed in 2020.
 
"This is an important first step in the direction of the completion of the museum. The exhibit, curated by Anna Foa, Giancarlo Lacerenza and Daniela Jalla, will reconstruct part of the millenary Jewish presence in Italy (up to the 10th century). It will show the beginning of the narration that the museum will focus on: the deep interweaving between Jewish and Italian history, between light and shadow," explained MEIS president Dario Disegni.
 
When completed, the permanent exhibition will cover Italian Jewish history up to the contemporary world. It will also offer visitors the opportunity to better understand what Judaism and its traditions are.