NEWS As restrictions are lifted, Italian Jewish communities celebrate their happy occasions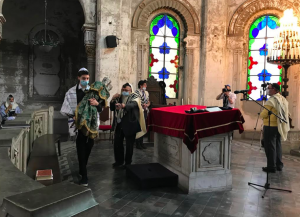 By Pagine Ebraiche staff
As the restrictions imposed to contain the coronavirus outbreak in Italy are progressively eased up, Italian Jewish communities started to celebrate again life-cycle events in person, according to the guidelines of the authorities.
In Rome, Elinor and Marco, who were supposed to get married in Jerusalem in March, celebrated their wedding at the Great Synagogue, wearing a mask and with a limited amount of friends and family members, but great joy.
Another wedding was celebrated in Livorno, the wedding of Loretta and Clemente. The ceremony took place in the chief rabbi's apartment.
An even rarer event took place in the synagogue of Vercelli, were a bar mitzva was officiated for the first time since 1957.
Thirteen-year-old David also had the opportunity to read his Torah portion from the renowned 13th century scroll, the oldest known in the diaspora still fit for ritual use.