Cataloguing Italian Jewish books: "A project bearing historical significance"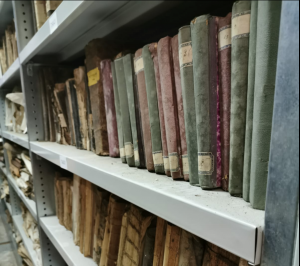 By Pagine Ebraiche staff*
Y-TAL-YA Books is a project to recover, enhance and give access to a huge sector of Italian Judaism's cultural heritage represented by 35 thousand books which are stored, but not yet registered, in 40 libraries all around Italy. It is symbolically named after the expression Italian Jews employ to refer to the Italian peninsula, i.e. Y-Tal-Ya, the Island of divine dew.
The project, which has been officially launched last week after an initial experimental stage, is the result of collaboration among the Union of the Italian Jewish Communities (UCEI), leader of the initiative, Rome National Central Library, the National Library of Israel (NLI) and Rothschild Foundation Hanadiv Europe.
Team collaboration among Italy, Great Britain and Israel has continued thanks to technological tools and despite difficulties related to the health emergency of the last few months. Starting from Turin, a training phase is now about to be launched in order to move on to the cataloguing work.
In the opening speech, Chief Executive of Rothschild Foundation Hanadiv Europe Sally Berkovic, UCEI's President Noemi Di Segni, Director of Rome National Central Library Andrea De Pasquale, NLI's Director General Oren Weinberg and Caron Sethill, NLI's representative to Europe, were unanimous in saying that "This project bears historical and international significance."
"Despite all difficulties, technology has allowed us to hold regular meetings and keep on working smoothly, connecting from Rome to London to Jerusalem," explained Gloria Arbib, UCEI's project coordinator. "It's a highly significant and ambitious initiative, aimed at creating a collective catalogue of all printed books in Hebrew that are stored in Italian libraries belonging both to Jewish communities and to the State," she continued.
Manuscripts, incunables, and forgotten ancient books will become available again to scholars as well as to the general public on Rome National Central Library's digital display, which was specifically adapted for search in Hebrew. From the mid-15th century to 1960 (the end date for the cataloguing), from Trieste to Bari, thousands of books and their stories will be brought to life again.
"We will make history in the field of Jewish books," said Director De Pasquale. "We will finally gain full knowledge of the book patrimony stored in Jewish libraries as well as state ones, which were only partially checked up until now. Some otherwise unknown editions will come to light, taking with them new protagonists. For example, I'm thinking of names of past typographers and many others."
"It's a professional opportunity for those working on this project, to whom we'd like to express our thanks, as well as a growth opportunity for the whole of Jewish culture, and we should be proud of that," underlined UCEI President Noemi Di Segni.
This complex project was launched three years ago, with an initial exploration of libraries belonging to Italian Jewish communities and to the State. "I clearly recall the moment I received UCEI's application. At Rothschild we receive hundreds of grant applications, but I remember thinking how ambitious that project was and how difficult it was to imagine its implementation," said Director Berkovic. "Now we have come this far, and that idea has become a reality thanks to an effective collaboration among different institutions."
"Higanu le yom haze. We've come to this day," echoed Sethill, underlining the initiative's innovative and international nature.
Translated by Claudia Azzalini and revised by Sara Facelli, both students at the Advanced School for Interpreting and Translation of Trieste University and interns at the newspaper office of the Union of the Italian Jewish Communities.