NEWS Sami Modiano turns 90, is awarded knighthood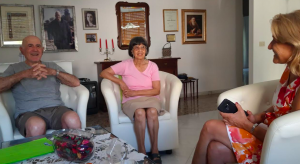 By Pagine Ebraiche staff
Auschwitz survivor Sami Modiano turned 90 last week and was awarded a knighthood by Italian President Sergio Mattarella.
"I have a mission: to make sure that what has happened does not happen again. I will do it until the Lord gives me the chance," Modiano often explains. It was to honor his unwavering commitment to remembrance that Mattarella granted him the title of Knight of the Grand Cross of the Order of Merit of the Republic, one of the highest conferred by Italy.
Also the President of the Union of Italian Jewish Communities visited Sami Modiano and his wife Selma to express birthday wishes on behalf of the whole Italian Jewish community.
"A good and kind man, with extraordinary strength and humanity," commented the President of the Jewish Community of Rome, of which Modiano is a member, in wishing him "ad 120," to 120.
Birthday messages were also shared by the Progetto Memoria, the Museum of Italian Judaism and the Shoah and the Shoah Museum Foundation.