NEWS Historian Anna Foa Awarded Honorary Title by the President of Italy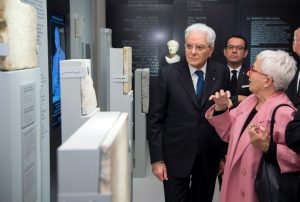 By Pagine Ebraiche staff
The president of the Italian Republic Sergio Mattarella awarded Anna Foa with the official title of Commendatore (equivalent to the English Knight Commander). The title is awarded to individuals who are honored with the Order of Merit of the Italian Republic.
Anna Foa is a leading expert in Jewish history. She has authored dozens of books and papers and is a permanent contributor to Pagine Ebraiche.
Last year, she was invited to give a lecture on the occasion of Holocaust Remembrance Day at the Quirinale Palace (the residence of the President of Italy), and it was she who was chosen to guide Mattarella through the Museum of Italian Judaism and the Shoah in Ferrara at its inauguration.