NEWS Street in Rome to be dedicated to righteous diplomats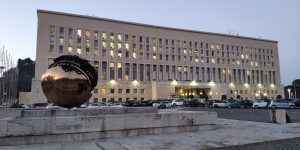 By Pagine Ebraiche staff
The Municipality of Rome has given green light to change the name of the street where the Ministry of Foreign Affairs stands from " Ministry of Foreign Affairs Avenue" to Farnesina Righteous Avenue" in memory of the Italian diplomats who distinguished themselves in acts of humanity during the international crises, the genocides and any situation where fundamental rights have been called into question.
The initiative was supported by the organization Gariwo – The Righteous Garden, the Municipality and the ministry themselves, including by Minister Luigi Di Maio, Ambassador Emilio Barbarani, Mayor Virginia Raggi and Deputy Mayor Luca Bergamo.
Gabriele Nissim, president of Gariwo, expressed satisfaction.
"With the extension of the concept of Righteous from the Shoah to every situation of humanitarian crisis, we have started a path that no one had ever imagined in the world," he said. "By paying tribute to the best men who defend human dignity in every situation and in every age, we can aspire to make Italy a messenger of beauty and responsibility."