NEWS A Garden of Righteous in Tunis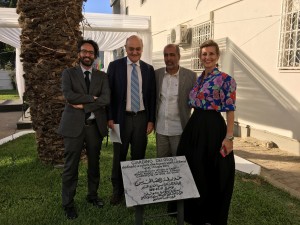 By Daniel Reichel
 
The first Garden of the Righteous in an Arab country was inaugurated in Tunis on July 15. Inspired by the one at the Monte Stella in Milan (that took Yad Vashem as a model), the Garden was created thanks to the collaboration between the Italian organization, Gariwo and the Italian Ministry of Foreign Affairs. It is located inside the Italian Embassy in Tunis. "After what happened in Nice, the inauguration of a Garden against terrorism in Tunis has an even greater meaning," said the president of Gariwo, Gabriele Nissim before the ceremony, referring to the terrorist attack in France.
 
Attending the ceremony were also Nobel Prize winner in 2015, Abdessatar Ben Moussa and Ambassador Raimondo De Cardona. The three of them dedicated the first trees in the Garden to four Arab and Muslim Righteous of past and present time. These four risked their lives in the fight against persecution and terrorism and for the protection of human rights: Mohamed Naceur ben Abdesslem, the Tunisian guide that on March 8, 2015, managed to rescue dozens of tourists from the Bardo Museum during a terrorist attack (9 people were killed); Khaled al-Asaad, the archaeologist who paid with his life the desire to defend Syrian cultural heritage from Daesh; Tarek el-Tayeb Mohamed Bouazizi, the young man who in December 2010, exasperated by the atrocities, set himself on fire in Tunisia to protest against the oppression of the authorities (this gesture started the Jasmine Revolution and the Arab spring). A tree was planted also for Faraaz Hussein, the young man who on July 1, in Dhaka, gave an example to the jihadists of Daesh, choosing to remain at the side of his friends despite the fact that the terrorists had allowed him to leave. Hussein was murdered with 27 other people. The last tree was dedicated to Khaled Abdul Wahab, a businessman who, during the Nazi occupation of Tunis in 1942, saved some Jews from the persecution.
 
"Against those who sow terror and mercilessly kill hundreds of men, women and children, whose only fault is to love life, we celebrate those who sacrificed themselves for the opposite principle," said Nissim during the inauguration of the Garden. "I hope, the president of Gariwo continued, that the Tunis Garden of the Righteous will be just be the first one and that others will open in Morocco, in Algeria, in Syria, in Iraq. When it happens, it will mean that we have defeated the terrorists."
 
"It is essential and necessary to cultivate 'good' memories and remember those who, at the expense of their safety and lives, saved the persecuted from our recent past. At the same time the example of the Righteous empowers us and calls us to bring good to our daily lives," said the Italian Foreign Minister Paolo Gentiloni commenting  on the initiative of the Garden of Righteous in Tunis.