From synagogues to wineries, a new site welcomes you to Jewish Italy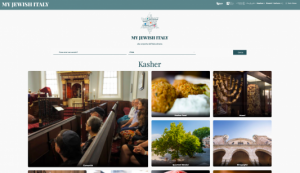 By Pagine Ebraiche staff
How do you find the synagogue? What about the Jewish community? Is there a kosher bakery, winery, or butcher? The Jewish cultural heritage of Italy is among the richest in the world, but it may be difficult for a visitor to navigate it. Here comes to help My Jewish Italy, the website launched along an app by UCEI – Union of Italian Jewish Communities in collaboration with the Italian Jewish Heritage Foundation and the support of Ministry of Culture.
The site lists ancient historical and cultural sites along with kosher enterprises now operating: shops, restaurants, catering, hotels. Developed by Frankenstein Srl, the website and the app take into consideration both tourists and Italian products companies interested to enter this market, maybe for the first time.
My Jewish Italy was launched in the European Day of Jewish Culture, which in Italy involved over 90 Italian cities and towns. "The website and the app want to tackle a need that showed up while promoting K.it, the national certification brand developed by the Union of Italian Jewish Communities", says Jacqueline Fellus, UCEI Kashrut Assessor. "Dealing with orthodox Jews in other countries, a significant lack of information emerged, which inevitably penalized a specific tourism".
My Jewish Italy also presents the list of kosher products available in the supermarket realized by the Italian Rabbinical in collaboration with UCEI. "One of our goals is to spread this document, which is not only important to orientate oneself correctly but may also represent a marketing tool. This initiative may strengthen our Jewish communities. There are many opportunities to create jobs and build new skills", stresses Fellus.
The website My Jewish Italy can be reached here. To download the app for Ios tap here . Click here for Android.