Rome and the Shoah, places and stories. A new perspective in a documentary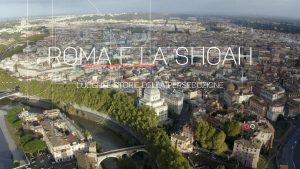 "We decided to allow the places that symbolize the persecution against Jews in Rome to speak. What emerges is a new perspective, unknown to the general public, of a city capable of great demonstrations of solidarity, but also betrayal and cowardice". With these words Mario Venezia, president of the Foundation Museum of the Shoah, introduced the documentary titled "Roma e la Shoah. Luoghi e storie della persecuzione" (Rome and the Shoah. Places and stories of the persecution).
Directed by Dario Prosperini and written by Amedeo Osti Guerrazzi, the documentary, which was aired in a dossier by Tg2, draws attention to the raid of the ghetto of Rome through a new angle. "Walking the streets of Rome, itis hard to imagine that these streets, alleys, and squares had been scenarios of such atrocities, injustices, and tragedies", explained Prosperini. The protagonists of the documentary, stressed Osti Guerrazzi, are the victims, the executioners, and the saviors. But "the main character is the ciy".
Here the presentation video.