The Italian pianist Francesco Lotoro honored by the Simon Wiesenthal Centre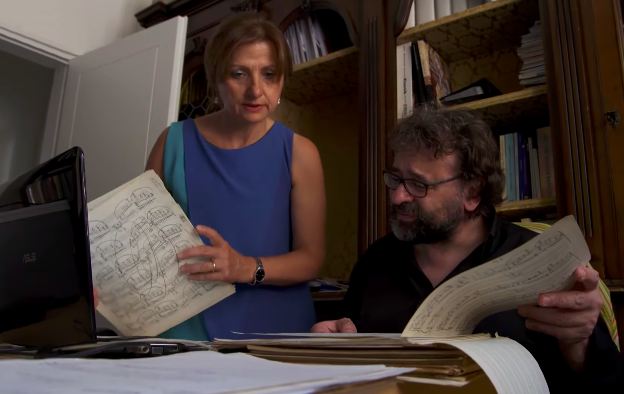 The Italian composer and pianist Francesco Lotoro and his wife Grazia Tiritiello have been honored by the Simon Wiesenthal Center and Museum of Tolerance for their thirty years long commitment to give life to music from Holocaust. The Medal of honor has been awarded at a virtual hosted by Jeffrey Katzenberg, Simon Wiesenthal Center Board Member and Rabbi Marvin Hier, Simon Wiesenthal Center founder and dean.
On the same occasion, Amal and George Clooney have been honored for their humanitarian work, along with Dame Louise Ellman DBE, for her decades-long commitment to fighting anti-Semitism in the United Kingdom and Douglas Miguel Rodriguez (posthumously), from Ecuador, who was killed while trying to protect others from anti-Semitic terrorists who stormed a Jersey City kosher supermarket where he worked.
George Clooney narrated the Center's latest film from its two-time Academy Award-winning Moriah Films' division, Never Stop Dreaming: The Life and Legacy of Shimon Peres which was acquired as a Netflix original and should be streaming sometime this year.
For the Italian pianist, who with his wife has collected and catalogued more than 8 thousand musical scores composed in captivity by Jewish musicians who were in captivity during the Holocaust and thousands of documents, books, and audiovisual material, the Medal of honor "is an important expression of esteem for an extended and not yet finished research aimed at bringing back to life thousands of music pages which are often masterpieces". "This award – he said – is dedicated to those musicians and to those who supported our work".
Through the years, the Medal of Honor was bestowed also upon David Ben Gurion, Yitzhak Rabin, Shimon Peres, Raoul Wallenberg, Winston Churchill, Giovanni Paolo II, Andrei Sakharov, and the Reverend Johnny Moore.