The Italian pianist Francesco Lotoro Brings Holocaust lost music to the Emmys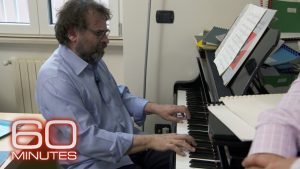 An Italian story of commitment to the memory of the Holocaust will be represented at the 41th Annual News and Documentary Emmy Awards, which will take place on September 20th. The documentary by CBS The Lost Music, chronicling the unfailing commitment of the Italian composer and pianist Francesco Lotoro to give life to music from Holocaust, was nominated in the category Outstanding Arts, Culture and Entertainment Report.
The documentary depicts the musician effort to recover, perform, and in some cases finishing pieces of music composed in captivity by Jewish prisoners in Nazi concentration camps. The double-length segment was aired twice after "60 Minutes", the popular transmission on CBS, under the "60 Minutes Presents".
Mr. Lotoro started his research in 1988 and has already collected and catalogued more than 8 thousand musical scores and thousands of documents, books, and audiovisual material gathered in trips around the world. With his wife Grazia, he's continuing to gather, transcribe, perform, and record music and is currently working on an even larger collection.
"For us, remembrance is a mitzvah. So, I am doing my duty", Mr. Lotoro explained in an interview. Giving life to music created in the concentration camps, in the harshest of conditions, is not only a testament to the resilience and endless creativity of human mind, but a unique way to help future generations to understand.
The monumental archive created by Mr. Lotoro will be located in the Citadel of Concentrationary Music to be built in Barletta, a city in southeastern Italy by the Adriatic Sea, where Mr. Lotoro lives and was born 55 years ago. The citadel is to include a museum, a library and a theater on the two-acre site of an abandoned brandy distillery.