A plaque remembers lawyers and judges expelled by Italian racial laws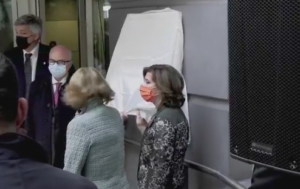 "In 1938-39 the ferocity of racial laws hit; human justice today repairs". So reads the plaque affixed last week in Rome in the Court of Appeal to commemorate lawyers, magistrates, and court officers expelled after the promulgation in Italy of the racist laws. Realized by the Rome Bar Association together with the Union of Italian Jewish Communities, Rome Jewish Communities and the Italian Association of Jewish Lawyers and Jurors, the initiative was followed by a meeting that canceled the 1939 radiation decree. The ceremony, stressed the Senate president Maria Elisabetta Alberti Casellati, was a precious opportunity to reaffirm that "only a fair society builds its own future". "Meeting today sends a strong signal. In most difficult moments we need to appeal to the values on which our republican democracy is based".
"In Italy – said the President of Italian Jewish Communities Noemi Di Segni – the Shoah was not the work of the Nazi occupant alone and was not solely committed in the crematoriums of Auschwitz. It was enacted in Italy, in Italian camps, by Italians who believed in fascism or were indifferent. After the war, criminals almost never underwent trial, and justice courts stayed silent. This is the responsibility of Memory, if we really want to say never again".
At the end of the ceremony, the Chief Rabbi of Rome Riccardo Di Segni remembered his grandfather Elia Disegni, who was the chief clerk of Rome court. Nobody had the guts to hand him the letter relieving him off his duties. He found it on his table. Rabbi Di Segni stressed the diligence showed by the State in applicating the expulsion decrees. The persecution, he said, was systematic, and king Vittorio Emanuele III took care of personally signing every document.