NEWS Italian Judges Visit Israel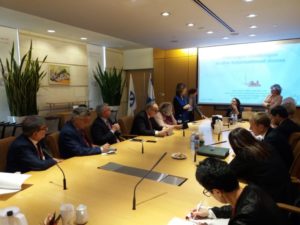 By Daniel Reichel
A delegation of the Italian High Council of the Judiciary (CSM) – guided by the deputy president Giovanni Legnini and the president of the Supreme Court of Cassation Giovanni Canzi, visited Israel last week.   
The mission was aimed at making  connections with Israeli judicial representatives.  
On Sunday the delegation – accompanied by the President of the Union of Italian Jewish Communities Noemi Di Segni, met the judges of the Israeli Supreme Court and its' president Esther Hayut.
During the meeting, Legnini and Canzio spoke with Hayut about the possibility of signing a document to strengthen the relation between the Italian judicial system and the Israeli one.
During the visit, the delegation also met with the director of the International Law Department at the Ministry of Foreign Affairs Sarah Weiss Maudi and with Amir Weissbrod, head of the Political Research Division.
The Italian judges were accompanied by the Italian ambassador Gianluigi Benedetti. On Saturday they met the Community of Italkim in Jerusalem.