On display in Brera, the Fantasies by Mario Mafai are a scream against the horrors of Nazi-Fascist crimes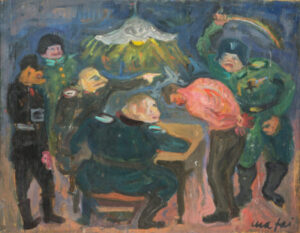 From mid-February the paintings "Le Fantasie" by Mario Mafai, twenty-two paintings donated to the museum in 2018 by engineer Aldo Bassetti, president of the Amici di Brera from 2007 to 2020, are on display in Brera. The Fantasies – tablets painted with hallucinated colors and a strong expressionist matrix – are a denunciation on canvas of the violence of war and in particular of Nazi-fascism. They are a harsh representation of massacres and horrors, of shouts and guilty silences.
The history of these works is an integral part of Bassetti's existence and starts from afar, when he was just 14 years old and a tragic episode profoundly marked his life: the massacre at the Hotel Meina on Lake Maggiore in 1943. Victims of a German raid, carried out on the entire Novara coast of Lake Maggiore, sixteen Jewish guests of the hotel in Meina were first identified and held for a few days in a room and then, in two subsequent nights (on 22 and 23 September 1943), killed and thrown with ballast in the lake. Among the victims was Lotte Froehlich Mazzucchelli, 38, aunt of Aldo Bassetti. It was he who was called to recognize the body.
"This experience – Bassetti will recall – completely changed my moral, political and social sensitivity. Here then is that Mafai becomes a symbol of my life". And so, the cycle of works "Fantasie".
Mafai began to paint them during his stay in Genoa, where he had moved from Rome with his family in 1939 for fear of discrimination against his Jewish wife Antonietta Raphaël, following the approval of the racial laws of 1938. The painter's daughter, Giulia Mafai, will remember when as a child, with her sisters, these small panels were smuggled from house to house. "At the time it was very dangerous to keep them", she said. In 1957 the paintings were purchased by Giovanni Pirelli, the industrialist's eldest son, who however chose to give up a destiny in the family business to become partisan commander first, then a writer. "The fact that this collection was bought by Giovanni Pirelli, whom I met, who was also a bit of an exception because he was the son of Pirelli, a fascist family, whereas Giovanni was a true, profound, sincere anti-fascist, gave me great consolation", says Bassetti, then explaining his purchase of the collection and the meaning of the donation to the Brera Art Gallery. "My purchase and my gift have a strictly political meaning. These works represent a man, Mario Mafai, who as an artist had had the priority of describing the sadness and infamy of the concentration camps. Here is my thought: an anti-fascist thought. I want to know what has happened in history, so that it will be remembered forever".