Between Jews, Italy and Eastern Europe a long history to be explored in a conference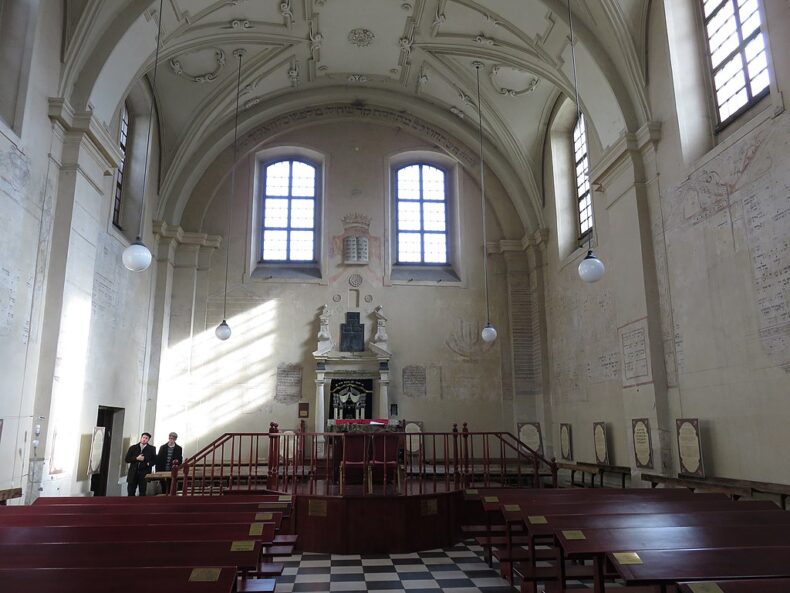 By Andrea Morpurgo
The close contacts between Italy and Eastern Europe have evolved over the centuries and Jews have been an integral part of this relationship. The best known examples are the numerous synagogues built by Italian architects in Poland and Lithuania, including the Izaak synagogue built by Francesco Olivieri in Krakow's historical Kazimierz district in 1644 and named after its donor Izaak Jakubowicz, a banker to King Ladislaus IV of Poland. The building, which architectural historian Carol Herselle Krinsky considers "architecturally the most important" of all the old synagogues in Krakow, was so beautiful and lavish that local diocesan officials did everything they could to delay its construction.
The Galician city of Lviv was another important place where Italian or Italian-speaking architects designed and built synagogues between the 16th and 17th centuries. Among them Adam Pokora (Adamo de Larto) from Bormio in Lombardy, Andrea Pellegrino from Bologna, Paweł Szczęśliwy (Paulus Italus), Ambroży Przychylny (Ambrosius Nutclauss) and Giacomo Medleni from the Swiss canton of Graubünden and Zachariasz Sprawny (Zaccaria Castello) from Lugano in Ticino.
Also interesting is the story of Bernardo Morando. The Italian architect was born in Venice in 1540 and moved to Poland in 1569. In 1578, he was commissioned by the wealthy Polish nobleman Jan Zamoyski to design an "ideal city" in Renaissance style. Impressed by what he had seen during his stay as a medical student in Padua, Zamoyski wanted Morando to build something similar and for his new city of Zamosc to be populated by a multicultural mosaic of Italian, Greek, Armenian and Jewish people. However, he only invited Sephardic people from the Venetian Republic and the Ottoman Empire, because he considered them cosmopolitan and culturally superior to the local Ashkenazic Jews, who were not allowed to settle in the city.
To explain this massive presence of "Italians"- Jews and Catholics – it is necessary to remember that, from the 16th century onwards, Poland was a booming centre of trade and culture, ideal for practising a job and being successful. Obviously, interaction also evolved in the opposite direction: many Italian Jewish doctors practised their profession in the most important courts of Eastern Europe, as well as countless Jewish medical students from Eastern Europe studied at Italian universities.
Significant was the story of the book Yerum Moyshe, written in the Yiddish language and published in 1679 in Amsterdam by the Polish Moyshe Rofe who, after studying medicine in Italy, returned to his native Kalish to serve his community. To give greater credibility to his medical remedies, the author wrote – in the introduction to the book – the prestigious approvals in Hebrew of seven doctors from Padua, Verona and Venice, as well as the Rabbi of Padua Semaria Conegliano (or Coneian).
This relationship was also of a trade, political and religious nature. Between the 16th and the 17th centuries, the activities of Jewish merchants in Mantua, Prague, Leipzig, Poland and Russia were of importance. They brought furs, medicines, precious metals and stones from Eastern Europe to the Gonzaga court. From the second half of the 16th century to 1764, the Council of Four Lands, which was the central body of Jewish authority in Poland, invited various emissaries from Lublin to Rome, and during the 19th and 20th centuries many Polish and Hungarian rabbis, such as Samuel Hirsch Margulies, Israel Anton Zoller (Israele Zolli) and Avraham Schreiber (Sofer), moved to Italy and soon became respected spiritual guides who strongly influenced Italian Jewish life and thought of that time.
The Fondazione per i Beni Culturali Ebraici in Italia – Foundation for Jewish Cultural Heritage in Italy and the Center for Jewish Art of the Hebrew University of Jerusalem have therefore decided to dedicate to this topic a first important study and discussion among experts by promoting the international conference Jewish Crossroads: Between Italy and Eastern Europe (curated by Vladimir Levin and Andrea Morpurgo), which will take place online on 22 July 2021. The event also represents the beginning of a collaboration between the two institutions that will lead to future projects for the study, preservation and enhancement of the rich Italian Jewish historical and artistic heritage within our territory and abroad.
(Above, the Izaak synagogue in Krakow)
Translated by Antonella Losavio and revised by Silvia Bozzo, students at Trieste University and the Advanced school for interpreters and Translators of Trieste University, interns at the newspaper office of the union of the Italian Jewish Communities.