Arturo Schwarz (1924-2021)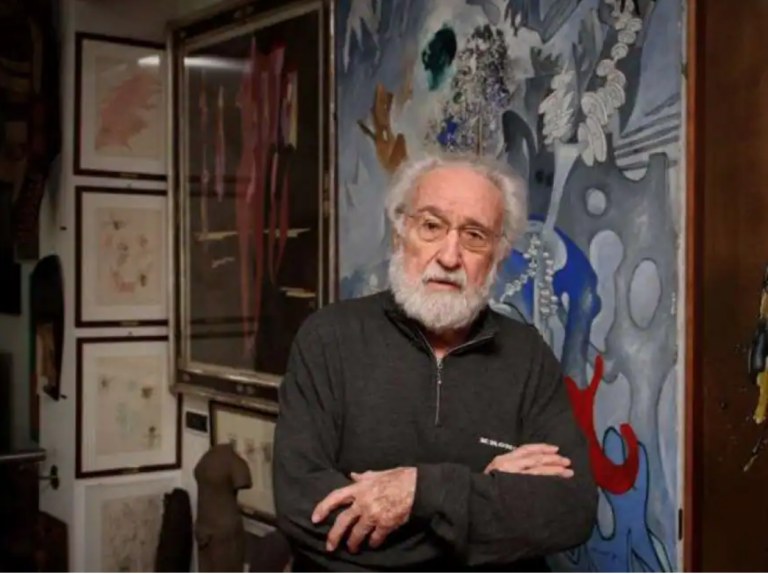 Poet, writer, art historian and collector, Arturo Schwarz contributed to introduce in Italy many great artists such as Marcel Duchamp or Man Ray and the most important exponents of the historical avant-gardes. He passed away on Wednesday at the age of 97, having left an indelible mark on the Italian culture.
Born in Alexandria in Egypt into a Jewish family, from a German father and an Italian mother, he spent the first twenty-five years of his life in Cairo. "I had dual citizenship – he said – but in 1933, after Hitler rose to power, we renounced the German one and my father, who was separated from my mother and had moved to Cairo, forbade me to address him in his mother tongue".
It was in Cairo that he early came into contact with politics. At the age of fourteen, in 1938, he was ready to call himself a Trotskyite. "With a couple of Coptic friends and a Muslim, I founded the Egyptian section of the Fourth International, wanted by Lev Trotsky", he told in an interview. Meanwhile he wrote poetry and maintained an overseas correspondence with André Breton, poet and theorist of surrealism. A friendship was born, as Schwarz explained in 2013 in an extensive interview with Pagine Ebraiche.
After the war, he devoted himself to the publication of Trotsky's books, an activity not appreciated by the Egyptian authorities led by King Faruq. "In the streets of Alexandria we paraded in procession, shouting: 'Long live to the unity of workers and students'. For the authorities I had become a very dangerous subject who had to be stopped and silenced".
Thus, one morning in 1947, he was arrested by the state police, interned and tortured in an underground cell for 18 months in the Hadra prison. Finally, he was sentenced to death. "They transferred me to the Abukir internment camp, where I learned of the death sentence. They did not execute it right away, because I was serving them as a hostage. The Arab-Israeli war had broken out, and I was Jewish". "After two years of imprisonment, the hanging was set for May 15, but a few weeks earlier Egypt and Israel signed the armistice. The agreements included the release of Jewish prisoners held in Egypt. One morning they shaved me, letting me believe that soon I would go to the gallows".
Luckily, it did not happen. The 25 years old Schwarz was accompanied to the port with a deportation order and headed to Genoa. On the passport, the Egyptian authorities printed the sentence: "Dangerous subversive – expelled from Egypt". So began his new life in Italy, in Milan, reached after arriving in Liguria.
At first employed in an import export company, after a few years he inaugurated his first bookshop in via Sant'Andrea which later moved to via Gesù. From 1961 he transformed it into an art gallery, presenting the most significant exponents of the historical avant-gardes (in particular Dadaists and Surrealists) and of the second postwar period.
"To survive, I started organizing exhibitions of engravings, etchings, and illustrated books by artists. Carlo Bo, Raffaele Carrieri, Elio Vittorini, Salvatore Quasimodo and many other friends helped me. Not being able to afford contemporary art that was popular (which anyway I was not interested in), I decided to challenge the capitalist law of supply and demand and recover the Dadaists and Surrealists that nobody wanted".
He thus became an art collector and dealer – a term that he did not appreciate, he explained to Pagine Ebraiche – known internationally. In particular, his gallery hosted numerous works by Marcel Duchamp, André Breton, Man Ray, Jean Arp and others. He was the first to reveal in one his books the real name of Man Ray. Thanks to the Schwarz Gallery, personal exhibitions were dedicated to Magritte, the aforementioned Man Ray, Sebastián Matta, Miró, Duchamp, Max Ernst, Francis Picabia, Piero Manzoni.
In 1997 he donated part of his collection of works of art, especially Dadaist and Surrealist, to the museums of Tel Aviv and Jerusalem and to the National Gallery of Modern Art in Rome. "For the love of art, one day I decided it was right that many of my works should be returned, for the benefit of the knowledge and the eye of the people", he said.
In 1998 the President of the Republic Oscar Luigi Scalfaro awarded him the First Class Diploma with a gold the Diploma of First Class with gold medal for outstanding merits in the fields of culture and the arts by the President of Italian Republic Oscar Luigi Scalfaro. He was the author of many books. Among those who have remembered him in these hours, Elio Carmi, president of the Jewish community of Casale Monferrato. "Arturo was a great friend of the Community – he said – he was able to combine Jewish thought with anarchy and surrealism", he said.