The melodies of Italian synagogues rediscovered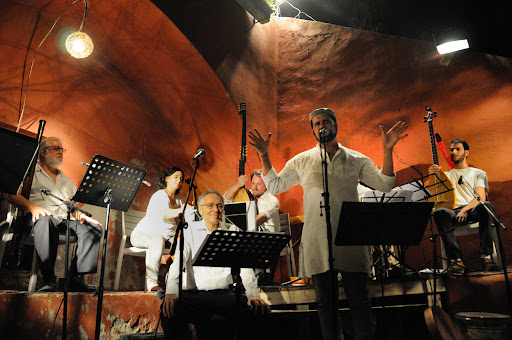 By Kyle Tassone*
What is "illumination"? In addition to being a synonym for "light", Illumination, is also a unique project that gathered passionate professional musicians under the guiding vision and direction of cellist Ayela Seidelman, to rediscover early modern Jewish-Italian liturgical music. In this convocation of musical minds, the project was formed, and with it, the uncovering and rebirth of some of Italy's most intriguing early modern Jewish musical pieces, which the group performed live, and then recorded and released digitally in May of 2020.
Leading up to the project's creation, Seidelman conducted an in-depth study of music in search of long and nearly forgotten songs from Italian synagogue archives in hopes of finding pieces of Jewish-Italian origin that she could resurrect and reintroduce to modern ears.
This was not the first time that Seidelman undertook an endeavor of this kind. While studying cello at institutions such as the Jerusalem Academy of Music and Dance, and the Shepherd School of Music at Rice University, Seidelman gained a great deal of experience reconstructing little-known musical pieces, taking first prize in a musical contest where musicians from all over the world performed pieces originally written by composers who had died during the Holocaust. While attending school, she also minored in Religious Studies, gaining theoretical and practical knowledge that would inform her approach to projects such as Illumination.
Illumination is comprised of eleven musicians, all experts in a variety of diverse instruments such as the baroque cello, the theorbo, and traditional Italian percussion instruments, plus two musicians by the names of Rafael Negri and Mauro Occhionero who were invited as guest performers for Illumination's stage debut.
From the first song to the last, the audience was completely blown away by the sweet sense of melody and rhythm that the group brought to the stage during their live performance.
When I first came across the recording of Illumination's music, I too was in awe, and wished that I could have been there to see it in person. As a music producer and sound engineer, I was struck by the high quality of the recording. The clean, crisp, modern renditions of these early musical pieces provide a prime example of just how effective the tools and techniques of modern audio engineering can be at bringing history to life.
The main audio engineer responsible for the mixing and mastering of the tracks, Yuval Amit, deftly utilizes audio engineering and music production software, coupled with the powerful multiband compressors and graphic EQs, to produce this striking sound.
Through the use of modern recording, mixing, and mastering techniques, Amit captures the transient properties of each instrument, and increases the quality of every note, all while maintaining the integrity of how these pieces would have been played when they were written.
Due to the exacting production, listeners are able to pick out and savor all of the individual tones and harmonic stackings. For instance, in the song "The Songs of Salomon: Prologue. A Song of Ascents", every instrument displays a great amount of depth, contributing to a complete and filled-out presentation of the entire stereo field, which distributes the instruments effectively across the sound plane.
The compositions feature a powerful driving sense of melody when combined with the fifth-scale intervals commonly used throughout the project. Each song presents the listener with an intriguing sense of dissonance that really strikes the modern ear. Amit's skill in mixing and mastering the tracks brings out the best aspects of each instrument, melody line, and percussion hit. This, I believe, is the source of most of the listener's enjoyment.
Illumination's reimagining of these songs lets us imagine what they would have sounded like at the time of their initial performance, some four hundred years ago, whisking us back in time to early modern Jewish Italy.
Here the premiere performance of Illumination-Jewish Italian Spiritual Music, a unique international cooperation which sheds light onto the mesmerizing and largely unknown musical legacy of Italian Jewry.
* This piece is part of a series of articles written by students of Muhlenberg College (Pennsylvania, USA) enrolled in a course on the history and culture of Jewish Italy, taught by Dr. Daniel Leisawitz, Assistant Professor of Italian and Director of the Muhlenberg College Italian Studies Program.