An Italian Hebrew romantic comedy from the time of Shakespeare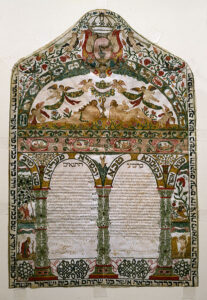 By Natanya Sher
Theatre is an art; it is a way of life. It unites people with different backgrounds, experiences, and lifestyles. All over the world, theatre is used as a form of communication. The art of sharing stories with strangers unites us and creates a sense of commonality. Despite its ancient roots, theatre has not remained static. Even plays that spring from the same cultural matrix have varied widely over space and time. Interesting cases are presented by the Jewish theatre in Mantua, Italy during the sixteenth and seventeenth centuries and the Yiddish theatre of the turn of the 20th century.
One could compare a play written in sixteenth-century Mantua to a Yiddish play written three hundred years later to analyze the significant cultural and traditional elements that they share. Leone de' Sommi's Renaissance Hebrew comedy, Tsakhot b'Dikhuta ("A Comedy of Betrothal,"-c 1550) and the Yiddish play entitled Di Kishef-Makherin ("The Witch," 1878) by Avram Goldfadin are two well-known plays that share core Jewish values and allow a glimpse into Jewish theatre from two distincts moments.
During the sixteenth century, Mantua, Italy became a city of refuge for many Jews. The Dukes of Mantua offered Jews permission to live in his city in exchange for unique taxes and contributions of theatrical performances for the court. The Jews were obligated to compose, perform, and finance elaborate plays and spectacles for Carnival celebrations yearly, as well as for special events for the wealthy and members of the nobility. Thanks, in part, to these Jewish performances, Mantua became a hotbed of theatrical innovation in Italy in the sixteenth and early seventeenth centuries.
The most notable Italian Jewish playwright of the age was Leone de' Sommi (c. 1525-95), who alongside more mundane, traditional fare, wrote pieces that advocated for the dignity of Jewish traditions and culture, according to professor of Italian, Daniel Leisawitz in his article, "Beyond Praxis: Leone De' Sommi's Apology of Theater and Judaism in His Quattro dialoghi in materia di rappresentazioni sceniche". Though De' Sommi wrote most of his plays in Italian, he also wrote what amounts to the first Hebrew-language stage comedy. A Comedy of Betrothal takes the typical form of an Italian commedia erudita, or erudite comedy, but it is also a Jewish play written in Hebrew.
De' Sommi wrote Betrothal around 1550, making it in effect the earliest extent Hebrew play script. The general outline of the play conforms to the clichés of standard erudite comedy fare. The two main characters of this story, Bruria and Yedidya are engaged and set to get married. Bruria's parents soon learn that the groom's father has died and has willed the family's wealth to his servant, Shuval.
Buria's parents decide to suspend the wedding and force Bruria to marry the son of a very wealthy family, Asael. When Yedidya learns of this, he does everything in his power to prevent this wedding from taking place, which is where the comedy comes into the story.
The significance of A Comedy of Betrothal, lies in De' Sommi's embedding a Jewish story, with the inclusion of Biblical and Talmudic elements and plotlines, within the form of secular, early modern Italian theatre. This play serves to weave together both of these cultures and traditions in a way that provides a strong Jewish core identity within an Italian cultural context.
Some 300 years after De' Sommi's comedy, modern Yiddish theatre originated in Romania in the 1870s, where it contributed to Jewish society and culture in ways similar to Italian theatre. Inaugurated by Avrom Goldfadin, Yiddish theatre was composed of different genres including melodrama and comedy. Music was the primary artform of Jews in Eastern Europe, and it plays a major role in early Yiddish theatre. One of Goldfadin's most well regarded plays is Di Kishef-Makherin ("The Witch").
As is typical for a melodrama, the story is centered around two characters who are passionately in love, Markus and Mirele. According to renowned Yiddishist Rukhl Schaechter, The Witch is a kind of Jewish Cinderella story. After the death of Mirele's mother, her father gets arrested due to the machinations of his new wife, Basye. The sorceress, Bobe Yakhne, works with Basye in order to obtain the fortune belonging to Mirele's father.
There are many scenes throughout this piece that incorporates dance, music, technical vocals, and numerous other characters that help establish the tone and environment of the setting. Interesting to note is that the role of Bobe Yakhne is supposed to be performed by a male-identifying actor, which Schaechter considers an instance of drag. I was fortunate to have the opportunity to work on this production during my internship at the National Yiddish Theatre Folksbiene during the fall of 2019 in New York. The plot and music are truly memorable and mesmerizing.
Although both Di Kishef-Makherin and A Comedy of Betrothal arise in vastly different cultural and historical contexts, there are similarities between the two that are worth exploring. Both plays were written with similar impulses to insert Jewish content into non-Jewish artistic forms: the melodrama in the case of Goldfarb, and the erudite comedy in the case of De' Sommi.
Both plays are written in Jewish languages – Hebrew and Yiddish – which serves to legitimize the secular theatre in Jewish circles and adapt a traditional Jewish language for use in contemporary art. And in terms of theatrical elements specifically, both plays take the form of a specific kind of theatre that is associated with the majority culture of the land.
Above, a beautiful ketubah (Jewish Marriage contract) dated Livorno, 1746. From The Ketubot Collection of the National Library of Israel.
* This piece is part of a series of articles written by students of Muhlenberg College (Pennsylvania, USA) enrolled in a course on the history and culture of Jewish Italy, taught by Dr. Daniel Leisawitz, Assistant Professor of Italian and Director of the Muhlenberg College Italian Studies Program.