Emanuele Luzzati, colors of time and Hanukkah on display at Jewish Museum of Bologna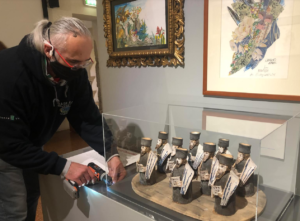 How could we give color to time and what time are we talking about when we talk about the Italian artist Emanuele Luzzati? There is the time of life and that of history. That of legend, fairy tale, and theater with its pauses and accelerations. There is the time of music. And there is the intimate time of personal existence. It is a polyhedron of nuances that stand out in the exhibition "Luzzati. I colori del tempo" (Luzzati. The colors of time"), curated by Vincenza Maugeri and Caterina Quareni and set up at the Jewish Museum of Bologna (of which Maugeri is the director) for the 100th anniversary of the birth of the great Italian painter, production designer, illustrator, film director, and animator.
At the center, eight tables are dedicated to festivities and key moments of human existence accompanied by a suggestive integration for the upcoming celebration of Hanukkah: an artist's candelabra made by Luzzati for the Museo dei Lumi in Casale Monferrato, which assembles a superb collection of Hannukah lamps realized by contemporary artists. The first evening of Chanukkah was the occasion to celebrate the entrance of the opera together with Claudia De Benedetti, director of the Monferrato Museum complex, also the protagonist in recent months of an installation curated by the Tiroler LandesMuseen in Innsbruck. It was followed by the lighting of the first lamp with the chief rabbi of Alberto Sermoneta. Until January 9, 2022. Here more info.
Above, the installation of Luzzatti's Hanukkah lamp at the Jewish Museum of Bologna.