EJC launches aid deliveries for refugees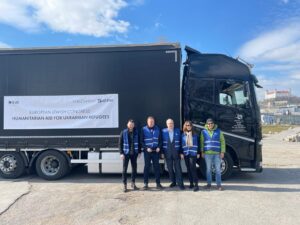 In the past few days, the European Jewish Congress has initiated deliveries of trucks to the Hungarian and Slovak borders with Ukraine as part of its ongoing effort to assist refugees fleeing war in Ukraine. Set up with the help of Jewish communities in bordering countries, especially the Federation of Jewish Communities in Slovakia (ÚZŽNO), and the Federation of Hungarian Jewish Communities (MAZSIHISZ), relief trucks contain basic necessities including food, medicine, sanitary products and other items
Deliveries will be replenished on a constant basis and expanded to further locations according to needs on the ground.
"Our goal is to assist as many refugees as possible during this urgent humanitarian situation, and to provide them with a measure of relief and safety," explained EJC Executive Vice-President and CEO Raya Kalenova, who together with EJC Vice-President Ariel Muzicant and ÚZŽNO President Richard Duda supervised the first dispatch of trucks leaving Bratislava to the Slovak- and Hungarian-Ukrainian borders.
"Human life is the most precious and sacred thing. We are so proud that our communities have mobilised to protect the most vulnerable, and we will continue to provide all material, financial and moral support to the best of our ability" she added.
"We must do our best to save our Jewish brothers and sisters in Ukraine, and all refugees who require support, to help them leave the country and to give them shelter, food, clothing and any form of psychological and financial support," remarked Ariel Muzicant.
As Richard Duda pointed out, Slovakia directly borders Ukraine, and the Slovak Jewish communities, under the leadership of ÚZŽNO have come together to assist refugees. Over the last two weeks, around twenty families were welcomed in Slovakia and assisted so they are able to settle in.
"We are glad that we are not alone in our mission, we welcome the cooperation with the EJC and express our readiness to continue to work tirelessly for the benefit of all who have had to leave their homes against their will," he said.
The Jewish community of Vienna is also conducting efforts to provide a dignified welcome to refugees. Shelter and basic necessities are being organised in three hotels, as well as access to medical doctors and psychologists. In addition, two Russian-language school classes and a kindergarten have been opened for small children, as well as cultural programs.
The EJC, together with its communal crisis management arm, SACC by EJC and all its affiliated communities have mobilised to provide humanitarian assistance as a matter of the highest priority, and will continue to do so for as long as it is necessary. In addition, the EJC is coordinating efforts and assessing capacity to distribute refugees among affiliated Jewish communities in Europe.
Above, the first delivery of relief trucks. Second from right, EJC Executive Vice-President and CEO Raya Kalenova, together with ÚZŽNO President Richard Duda and EJC Vice-President Dr Ariel Muzicant.