16 October 1943, remember together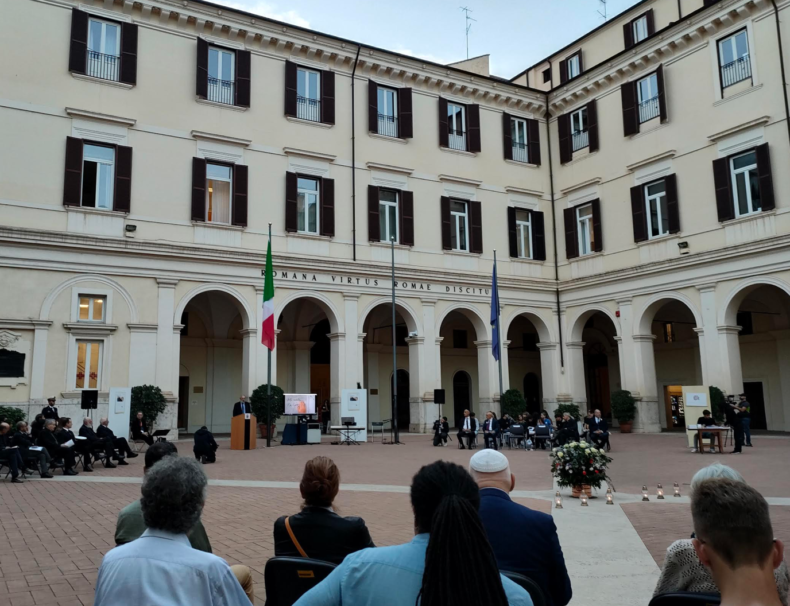 At the dawn of 16 October 1943, over a thousand Roman Jews were rounded up in the building of the former Military Academy in via della Lungara, from which two days later they were deported to Auschwitz-Birkenau. It is a place of remembrance where the project of the association Ricordiamo insieme (Remember together), now in its tenth edition, returned last week to commemorate the raid of the Ghetto of Rome. Many interventions marked the ceremony, which took place in the courtyard of the building, which today houses the Centre for Defense Higher Studies of the Italian Ministry of Defense.
"It a meaningful event, just a few days after another anniversary marking the centenary of the March on Rome," said the Rabbi of Rome Riccardo Di Segni. The two events, he said, are to be read together as different moments of "a slippery slope that drags towards destruction". Hence, the need "to be careful, to be vigilant, to fight for the affirmation of rights".
The institutions' greetings were from Rivka Spizzichino and Tobia Wallbrecher of the association Remember Together and Lello Dell'Arriccia on behalf of Progetto Memoria. Followed the interventions of President of the Centre for Defense Higher Studies, Admiral Giacinto Ottaviani; military archbishop Santo Marcianò; director of the National Office for ecumenism and interreligious dialogue of the Italian Episcopal Conference, Don Giuliano Savina; councilor to the Memory of the Roman Jewish Community Massimo Finzi; psychiatrist Alberto Sonnino; Gianni Polgar, who escaped the raid as a child.
The initiative, held with the artistic collaboration of the association We play together for Alisa, was preceded by some moments of memory and reflection at the obelisk in St. Peter's Square and the Regina Coeli judicial prison. Among the speakers, the president of the Jewish-Christian Friendship Marco Cassuto Morselli, the rector of the Basilica Santa Sabina Philipp J. Wagner, the engineer Nando Tagliacozzo (family of deportees), his daughter Lia, a writer, the director of Regina Coeli Claudia Clementi, and the chaplain Vittorio Trani.
Then, every year, the "1000 steps" ceremony took place towards Palazzo Salviati. A further piece was added on Sunday 30 October with a "conference of memory" at the Sala Teatro Maestre Pie Filippini Auditorium.